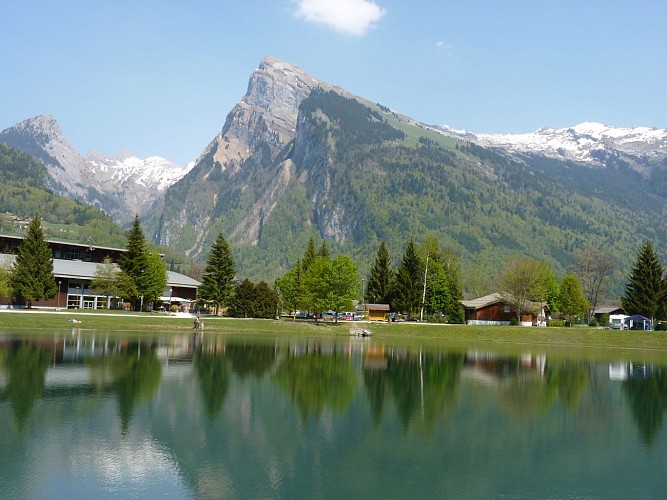 The village of Vallon and the Giffre dikes
The village of Vallon is split into two parts: Vallon d'en Bas and Vallon d'en Haut. Its inhabitants are called the Cavoêrus. This village constituted a civil parish from 1730. On June 22, 1811, it was attached to Samoëns by an imperial decree.
Duration: 1h30
Elevation: 17 meters
Type of terrain: Roads and trails
Special recommendation: none
Starting point: The Grand Massif Express (GME) cable car park
Special difficulty: none
Map reference: itinerary n ° 4 topoguide Haut Giffre Valley.

Go along the Giffre to a footbridge spanning the Clévieu. Cross then take the path on the left, which takes you on the old dykes of Giffre. The path, in the undergrowth, soon joins the Giffre which we follow to the Revé bridge.
Leave the bridge on your right and take, a few meters further, the path which leaves on the left and crosses the plain of Vallon. Facing you overlooks the Criou mountain and to the right, at the bottom of the valley, the Commune mountain.
Cross the road and continue with the one just opposite which leads to Vallon d'en Haut.
In the village turn left. Observe the fountain, dated 1873 and carved from a single block of stone. Continue to Vallon d'en Bas. The chapel founded in 1636 is placed under the name of the Saints: Jacques, Philippe and Joseph, in thanks for their protection during the plague epidemic which raged in 1630.
Shortly after the chapel, turn right in front of a large pool. The road leads to a crossroads. Turn left, follow the Clévieu stream then cross the departmental road.
At the second bridge, change banks and continue along the Clévieu to find the footbridge taken on the outward journey. Continue on the path and return to the gondola parking lot.

Itinerary for guidance only.
6.6 km

max. 0 m

min. 0 m

39 m

40 m
Starting point
parking de la télécabine du Grand Massif Express Village
74340 Samoëns
Lat : 46.084044
Lng : 6.728173

The Vallon Chapel
This chapel was built in 1636 by Joseph de Gex, Baron de Saint-Christophe,...Read more
Lat : 46.085704
Lng : 6.717153
701 m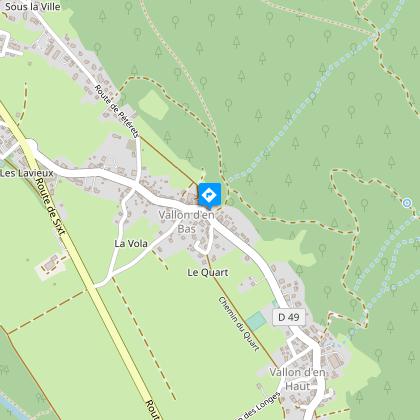 1
Samoens
Lat : 46.075311
Lng : 6.742773
0 m

La Plaine and Vallons village
This very easy route provides a peaceful walk on the vast Vallon plain.Distance:...Read more
Lat : 46.082876
Lng : 6.723032
700 m

The Giffre River
The Giffre is an outstanding mountain river. It crosses Samoëns...Read more
Lat : 46.075851
Lng : 6.720243
711 m
5 informations complémentaires
Open period
All year round.
Tips
Walk that allows you to discover the village of Vallon (Vallon from below / from above), the chapel, fountain and emblematic sculptures of Samoëns.
Reception conditions for animals
Dogs on a leash.
Updated by
Office de Tourisme de Samoëns - 19/06/2023
http://www.samoens.com
Report a problem