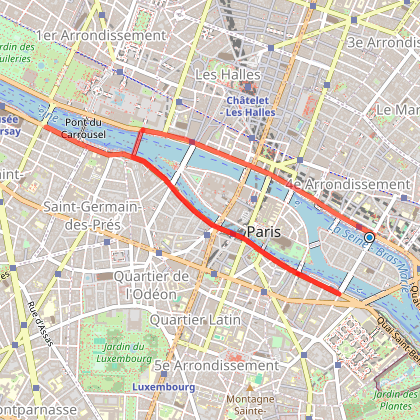 "Les bouquinistes", The booksellers
The booksellers of Paris are booksellers of books old and second-hand, present on a big part of banks of the Seine. According to the article 9 of the municipal by-law of October 1st, 1993, signed by Jacques Chirac, boxes used by the secondhand booksellers will have to be of a model approved by the Administration presenting an outside template determined by the dimensions below, for a maximal length of 8,60 m. The tradition of the secondhand booksellers begins near the XVIè century with small traders peddlers. Under the pressure of the booksellers, a regulation of 1649 forbids the portable shops and the display of books on the Bridge "Pont Neuf". The power in the time was rather worried of limiting the not censored parallel markets. The itinerant booksellers are thus, according to period, hunted then reinstated under enjoyments.
In 1859, concessions are organized by the city of Paris and the secondhand booksellers can become established in fixed points. Each is entitled 10 meters away from rail for an annual right of 26,35 F tolerance and 25 F of franchise tax. Openings are made of the rise at sunset. Finally, it is in 1930 when the dimensions of "boxes" are fixed.
Installed on more than three kilometers along the Seine and registered on the UNESCO world heritage in 1991, 240 Parisian secondhand booksellers exploit 900 " green boxes " where are about explained 300 000 second-hand old books and one very large number of magazines, stamps and cards of collection.
5.6 km

max. 38 m

min. 27 m

39 m

-35 m

Accessibility
Starting point

75004 Paris-4e-arrondissement
Lat : 48.8531
Lng : 2.35763
0 m

Bridge Marie, "Pont Marie"
The bridge Marie makes the object of a classification in conformance...Read more
Pont Marie 75004 Paris
Lat : 48.8531
Lng : 2.35763
0 m

The quay of the Louvre
The quay of the Louvre was formerly mentioned quay of the School.
Quai François Mitterrand 75001 Paris
Lat : 48.8592
Lng : 2.33807
0 m

The quay of the Tournelle, "Le quai de la Tournelle"
This quay took the place of the street and the holy port Bernard in...Read more
19-21 Quai de la Tournelle 75005 Paris
0 m

The quay Voltaire
Originally, the quay Voltaire was only the western part of the quay...Read more
33 Quai Voltaire 75007 Paris
Lat : 48.8594
Lng : 2.32973
0 m