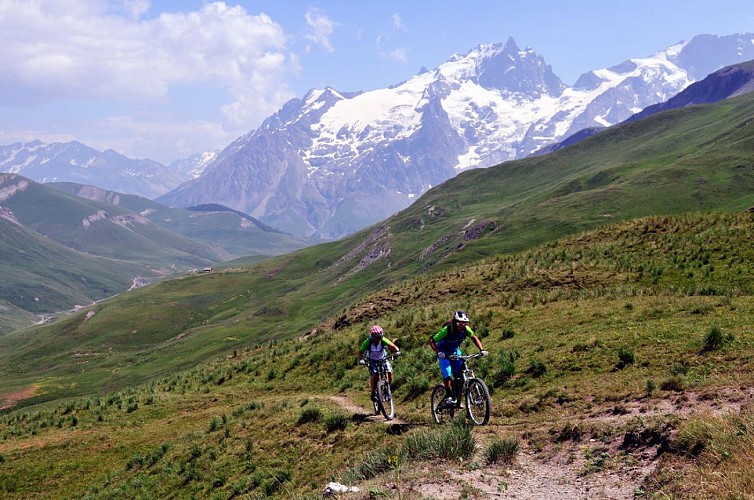 This is an impressive, long-distance ride starting from the Col du Galibier and finishing three days later in Bourg d'Oisans.DAY 1 : LE GALIBIER - BESSE
Departure : Col du Galibier 2642 m
Arrival : Besse en Oisans 1550 m
Lenght : 6 heures
Dsitance : 48 km
Total height gain : 1060 m
Total height loss : 2130 m
Map : Top 25 3435 ET Valloire Aiguilles d'Arves/ Top 25 et 3335 ET Bourg d'Oisans Alpe d'Huez
A ride across the mountains that will whet your appetite! You may well "lose" time due to the exceptional views around you, so be generous with your time schedule, allowing for any number of stops to admire Meije and its glaciers from a variety of viewpoints.
Start off with a gentle, downhill ride on the lovely track from the Col du Galibier to the Col du Lautaret. From Lautaret, take the new track (a Villar d'Arène project opened in spring 2013), which takes you along a balcony path to the Lac du Pontet and then on to the hamlets of La Grave and Le Chazelet (25 km, -1340m, +460 m), before climbing back up towards the Chalets de la Buffe and up to the ruins of the Rachas chalets (2351 m). Come down the Emparis plateau and take the FR54 to Besse en Oisans.

DAY 2 : BESSE - HUEZ
Departure : Besse en Oisans 1564 m
Arrival : Huez en Oisans 1500 m
Lenght : 7 heures
Distance : 51 km
Total height gain : 1700m
Total heigh loss : 1700m
Map : Top 25 3335 ET Bourg d'Oisans Alpe d'Huez
A tough day, in terms of distance and climbs... in short, pure Oisans under your wheels!
From Besse, ride up the track towards "Bonnefin" and the St Sebastien oratory. Carry on up to the Col de la Valette (2291 m) including a section cut out of the mountainside. You then have to carry your bike for around a 200 m gain in height. You then reach the chalets of La Valette, followed by a trip to and from the Col de la Valette. The descent is magnificent via the Ferrand Valley to Clavans le Bas. Continue on the road to Mizoën and then turn right towards "Puy le Bas, le Freney" to Puy le Bas (36 km, +1030m, -1200m). Carry on to Puy le Haut and Les Cours and then on to Auris Station. Carry on climbing up to the Col de Maronne and then take the path along the mountainside to Le Rosay, which snakes attractively along the east side of the Signal de l'Homme. A sign indicates the pillar of a cable lift taking coal from the Herpie mines down to Bourg d'Oisans. The descent in the Sarenne gorge is sometimes tricky, with tight switchbacks. Ride to the village of Huez en Oisans via the Roman Bridge over the Sarenne gorge.

JOUR 3 : HUEZ - BOURG D'OISANS
Departure : Huez en Oisans 1500 m
Arrival : Bourg d'Oisans 720 m
Lenght : 5 heures
Distance : 40 km
Total height gain : 900 m
Total heigh loss : 1680m
Map : Top 25 3335 ETBourg d'Oisans Alpe d'Huez
More downhill than uphill, this is the dessert with a tamer route on the maintained mountainbiking tracks of the Alpe d'Huez Grand Domaine. Once back in Bourg d'Oisans, the local capital, celebrate your achievement with a glass of local genepi liquor! From Huez, climb back up the Sarenne gorge to the Pont de Sarenne bridge and follow the tarmac road up to Alpe d'Huez. Take the Route du Rif Nel up to the top of the resort and carry on along the Route du Lac Besson up to the 2100 m point. Follow the XC 11 "Les Lacs" route with its northshore sections along the cliff. Go to L'Alpette and carry on along the enduro 7 "Crazy Mustang" track via Montfrais and Le Collet. Ride to Vaujany on the Chemin du Lac du Verney enduro 8 and carry on to Bourg d'Oisans on the XC 3 track.
130 km

max. 2638 m

min. 709 m

3602 m

-5501 m

Altimetric profile

Accessibility
4 informations complémentaires
Open period
From 01/06 to 31/10 : open daily.