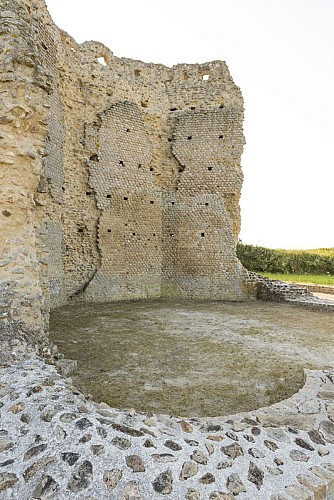 Corseul, at the time of the Romans
Credit : Gaïus, Mascotte de Coriosolis
The war to conquer Gaul, undertaken against the Gauls (from 58 to 51/50 BC) by Roman general Julius Caesar, lead to colonisation and set the beginning of "Pax Romana".
Emperor Augustus (ruling from 27 BC to 14 AD) organises Gaul in a few provinces, divided in districts: civitates.These cities from the first century BC use the limits of the the Gauls' territories.
The Armorican peninsula is therefore made of 5 cities, occupied by Osismii, Veneti, Namnetes, Redones, Coriosolites. Each territory has its capital; for the Corisolites it'll be Corseul!
Through a policy of assimilation, skilful mix of obligations and rewards, Rome succeds in adminstering Armorica.
The Antonine dynasty (96-192 AD) sets a golden age. The Coriosolites' city develops and its population is then estimated to be around 5000 inhabitants.
Relive this era by following in the footsteps of the Romans and, think of the fact that under your feet treasures sleeps!

The Centre d'Interprétation du Patrimoine CORISOLIS (Heritage Interpretative Centre) unveils the secrets and the way of life of Corseul's Gallo-Roman inhabitants. It can be visited all year round. Discover this recreational museographic space, interactive, and reachable by all publics!

(These suggested itineraries are given as an indication and don't take the possible evolution of the grounds or the environment into account. The use of these circuits is, therefore, left to the personal responsability of the users, the Office de tourisme disengages itself of any responsability towards the use of the maps and the possible accidents that might occur on the offered itinerary).
5.9 km

max. 102 m

min. 49 m

100 m

-100 m

Altimetric profile

Accessibility
Lodgings nearby
Starting point
20 Rue César Mulon
22130 Corseul
Lat : 48.4826
Lng : -2.16932
0 m

nterpretative Centre CORIOSOLIS
Dès Mars 2014, venez découvrir le Centre d'Interprétation du Patrimoine...Read more
20 Rue César Mulon 22130 Corseul
Lat : 48.4826
Lng : -2.16917
0 m

Clos Mulon Domus
Upon leaving CORIOSOLIS, take the path following the Clos Mulon domus...Read more
17 Rue César Mulon 22130 Corseul
Lat : 48.4828
Lng : -2.16977
0 m

Saint-Pierre Church and Siligia Stela
Once in Rue de l'Arguenon, turn left, then right in Rue du Montafilan,...Read more
4-10 Rue du Val Guillaume 22130 Corseul
Lat : 48.4809
Lng : -2.16827
0 m

Monterfil Gallo-Roman commercial district
Cross and go on the Mairie parvis. On the left, the Jardin des Antiques...Read more
5 Rue du Temple de Mars 22130 Corseul
Lat : 48.4812
Lng : -2.1671
0 m

Haut-Becherel sanctuary called « Temple de Mars »
Stay on the same sidewalk for about 250m (after the castle). You can...Read more
Lat : 48.4711
Lng : -2.14622
0 m