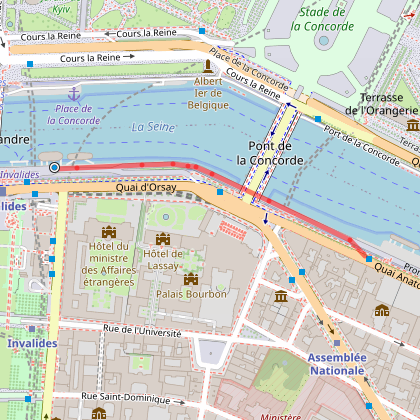 Picnic on the banks of the Seine
Take advantage of numerous terraces on the banks of the Seine. Discover the best spots where to picnic and to find the ideal place to unwind your tablecloth between lover or between friends.
Whom you are only, for two, in family or between friends, you have a very wide choice. You can reserve for 1:30 am for 8 people a picnic in any intimacy in Zzz, surrounded with an intimate garden inspired by famous paintings, you are there as if you were alone in your garden. On bring down it in one thousand legs, it is the user-friendliness which is for the honor, it is not rare to share its picnic with his neighbors of table and to finish with a game of checkers, failures, small horses or other backgammon which are lent to you on the spot. You prefer a panoramic view on Paris and its Seine, choose the walking of the emmarchement.

Prepare your baskets and if you forgotten the dessert or the coffee, the delivery tricycles of Omnivore and Mozza&co wait for you to counter in the lack.
524 m

max. 34 m

min. 29 m

10 m

-6 m

Accessibility
Starting point

75007 Paris-7e-arrondissement

The terrace of You in the Port of Invalides
To picnic, chat, or play between friends, the terrace in miles legs...Read more
37 Quai d'Orsay 75007 Paris
0 m

Rosa Bonheur on Seine
Rosa Bonheur joins in the tradition of the establishments of the beginning...Read more
37 Quai d'Orsay 75007 Paris
Lat : 48.8632
Lng : 2.31546
0 m

La terrasse à 1000 pattes du Port de Solférino, The terrace in 1000 legs of the Port of Solférino
Near Zzz, the terrace in 1000 legs offers you 80 places to eat between...Read more
27 Bis Quai Anatole France 75007 Paris
Lat : 48.8621
Lng : 2.32132
0 m

La grande terrasse (The big terrace)
Get ready a meal on the thumb, and come to taste it on La grande terrasse...Read more
00025 Quai Anatole France 75007 Paris
Lat : 48.8619
Lng : 2.32163
0 m

Zzz
A small place of peace at the water's edge, reserve free of charge...Read more
Quai Anatole France 75007 Paris
Lat : 48.8627
Lng : 2.31958
0 m