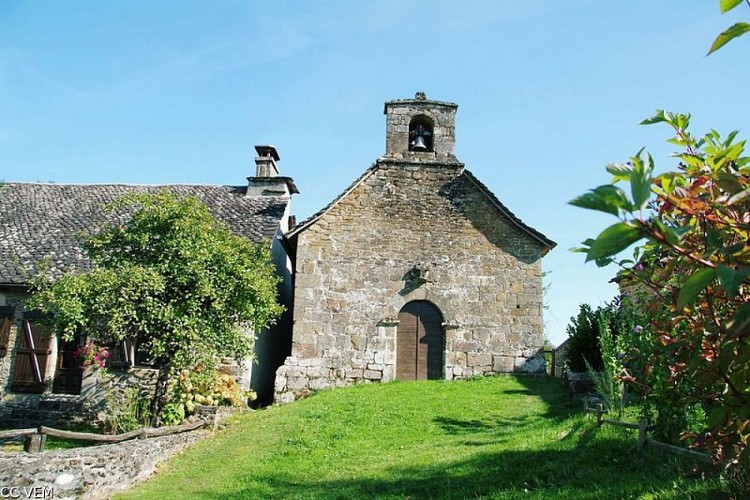 Overlooking the Sombre, the village of L'Herbeil will enchant you with its architecture and legends.At the sign, take the track, it runs alongside broad meadows (you may see the European stonechat). Continue on the path on the left.At the next crossing turn left on the earth path, cross a small stream and after 50 m take a trail that descends on the right. Cross the bridge over the Sombre and continue on the trail until you reach the trackTurn left onto the track. At Rouzeyrol, take the road on the right for 300 m. Then take the track on the left towards Roc Grand for 400 m.Continue along the track on the right. It leads to the Roc-Grand lookout point which overlooks the confluence of the Sombre and Dordogne rivers.Return to the fork (2.5 km round trip).Go along the meadow on the right, pass between the trees, alongside a field, then take the path through the coniferous trees that descend into the valley of the Sombre. Cross the stream (naturally dark in colour) and go up ahead by the road that leads into L'Herbeil. Go on through the hamlet to the Fontaine Saint-Simon sign.Turn right alongside the low walls to reach the Saint-Simon fountain. Go back to the road and turn right. Pass in front of the chapel Saint-Simon. Then leave a road on your left.Where a track crosses, continue on the road for 250 m then fork left onto another path. At the road continue straight ahead to find your starting point again.
9.2 km

max. 541 m

min. 438 m

0 m

0 m

Altimetric profile
Lodgings nearby
Starting point
Lat : 45.2488998
Lng : 2.1410907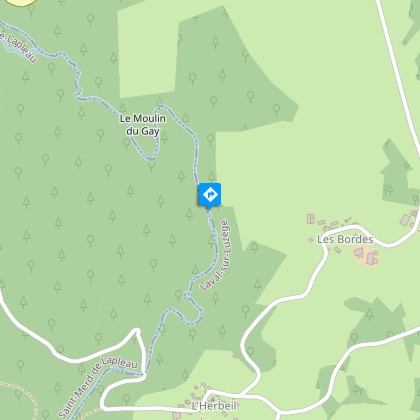 1
Ce cours d'eau prend sa source sur les hauteurs de la commune de Lafage- sur -Sombre et parcourt une quinzaine de kilomètres avant de chuter précipitamment dans la Dordogne.La Sombre, classée en première catégorie, accueille des populations de Truites, Vairons, Goujons qui se reproduisent dans ses eaux de bonnes qualités.
Laval-sur-luzege
Lat : 45.2479
Lng : 2.13183
n/a m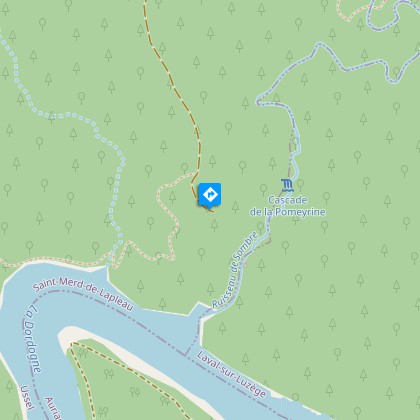 2
Le Paysage s'ouvre sur l'immense retenue d'eau qui couvre plus de 700 ha et alimente le dernier des grands barrages de la Dordogne, le Chastang. A une autre échelle, en contrebas du belvédère, est installée la microcentrale de la Sombre. Une conduite forcée achemine l'eau du plateau jusqu'à une turbine 170 m plus bas. Cette installation est privée.
Saint-merd-de-lapleau
Lat : 45.2351
Lng : 2.11868
n/a m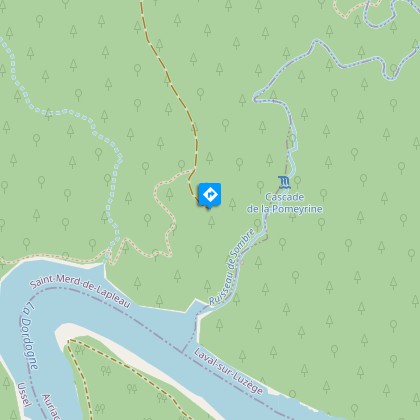 3
La Dordogne était une voie commerciale privilégiée pour rejoindre Bordeaux et le littoral atlantique. De grands bateaux à fond plat, adaptés au cours tumultueux et dangereux de la rivière, transportaient des bois (merrains pour la confection de tonneaux, charbon...) pendant la très courte période de crue, en automne ou au printemps où l'eau est dite « marchande ». L'équipage des gabariers se lançait alors dans une descente étourdissante, entre tourbillons, rapides et rochers.
Saint-merd-de-lapleau
Lat : 45.235
Lng : 2.11882
n/a m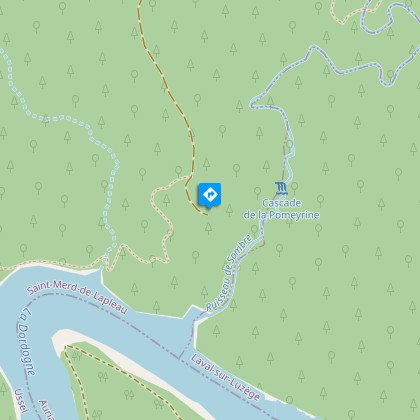 4
Surplombant le ruisseau de la Sombre et la retenue du Chastang, le belvédère Roc grand offre un panorama exceptionnel.Falaises et rochers environnants offrent le gite pour deux oiseaux habitués de ces milieux rupestres, le Faucon pèlerin (Falco peregrinus) et le Grand corbeau (Corvus corvax).
Saint-merd-de-lapleau
Lat : 45.2352
Lng : 2.11895
n/a m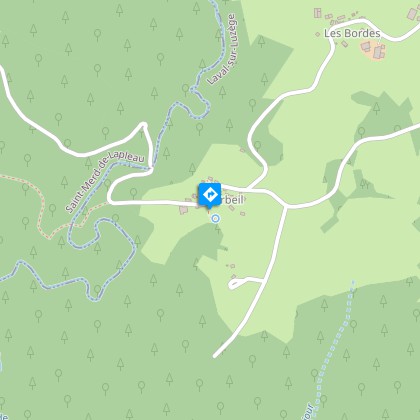 5
La fontaine porte le nom d'un roi martyr de Bourgogne, Saint-Simon ; la légende veut que cette fontaine ne gèle jamais ; jadis, on trempait les reliques du Saint dans la fontaine pour que la pluie se mette à tomber.
Laval-sur-luzege
Lat : 45.2417
Lng : 2.1315
n/a m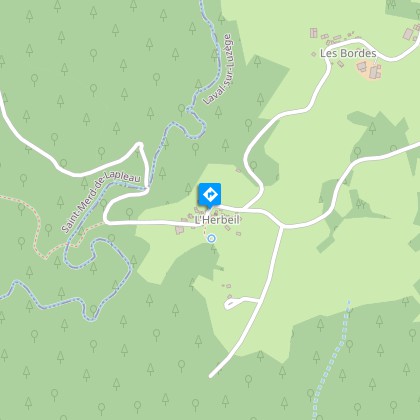 6
Une jeune fille ayant aperçu la Dame blanche en bordure d'un bois en parla au jeune Simon Mérillou du Suquet. Il s'amuse de l'histoire en disant que la Dame blanche est sa fiancée. Plus tard, elle apparaît à Simon, lui rappelant qu'elle est sa fiancée. « Malheur à ta Reine », ajoute-t-elle, allusion à sa douce amie. Quelques jours plus tard, Simon découvre Reine, juchée sur un rocher dominant la Dordogne,et la Dame blanche qui lui tend la main. Un violent éclair, et toutes deux sombrentau fond des eaux. Simon découvre que les deux défuntes sont sœurs jumelles et bâtit une chapelle pour abriter ses deux Reines blanches.
Laval-sur-luzege
Lat : 45.2423
Lng : 2.1317
n/a m
5 informations complémentaires
Departure
Path to the mobile phone mast, at the separation of the roads to Herbeil and Echamel
Arrival
Path to the mobile phone mast, at the separation of the roads to Herbeil and Echamel
Ambiance
From the catchment of the Saint-Simon fountain to the Chastang reservoir and the Sombre micro-power station, man has never ceased to control and use watercourses for his needs.
Access
Three km from the village of Poteau du Gay (located on the D 978 between Marcillac-la-Croisille and Spontour), take the road to l'Herbeil and Echamel.
Advised parking
Path to the mobile phone mast, at the separation of the roads to Herbeil and Echamel