 Hiking Discover the vineyards
Credit : Office de Tourisme Molsheim
Starting at Place de la Monnaie, take Rue Kopp and then turn right to take the path alongside the Bruche, crossing the river on a metal footbridge. Follow the Bruche on the other side, and after 150 metres take a wooden footbridge across the Dachsteinerbach. The next stop is Dompeter, the oldest rural church in Alsace.
Near the church, admire the huge lime tree – it is hundreds of years old, and one of the oldest trees in Alsace. Walk in front of the small vaulted structure protecting St Petronilla's spring. Continue in the same direction, following the avenue of copper beeches into the centre of Avolsheim. Take a look at St Ulrich's baptistery near the village's parish church, and from there follow the blue cross markers along a path beside the Bruche and cross the river at a bridge.
Before reaching the Bruche Canal, turn right and follow the canal as far as the D727 road on the edge of Wolxheim (cycle track). Walk through the village and go up to Altenberg and then Horn, where there is a statue of the Sacred Heart. Head north via Silberberg; from the 242 metres altitude point, you could walk to Altbronn chapel (pilgrimage site) and come back to the same point. From here, head north through Dahlenheim, and then west to Sharrach.
Return to the 269 metres altitude point south-west of Dahlenheim and follow the Schutterbronn to Soultz-les-Bains (blue cross). Leave the village on the west side, near an oratory, and follow the red disc markers.
Join the Molsheim wine path via Jesselberg and Finkenhof, and continue as far as the reservoirs, where there is a lovely view over part of the Alsatian plain, with Strasbourg cathedral in the distance.
Follow the sunken path downhill, and pass through the centre of Molsheim to return to the starting point of the walk.


THE BRUCHE CANAL
The waterway was constructed under the direction of Vauban (1681) to carry the materials for building the ramparts and forts circling Strasbourg. The stones were extracted from quarries at Wolxheim, and wood from the Bruche valley was floated down the Bruche.

ALTBRONN CHAPEL
The building is on the site of a village that has disappeared. The church dates back to the late 14th century; it contains a 15th century statue of the Virgin and Child. Next to the church is St Anne's chapel (18th century).


DOMPETER
Molsheim's first church was the Dompeter. The building comprises structures from different periods. It was founded in the 4th century by St Materne. The foundations date from the late Middle Ages, while the important parts (nave) are 11th century.
18 km

max. 361 m

min. 164 m

462 m

-461 m

Altimetric profile

Accessibility
Starting point
9 Rue de la Monnaie
67120 Molsheim
Lat : 48.54147
Lng : 7.4963
0 m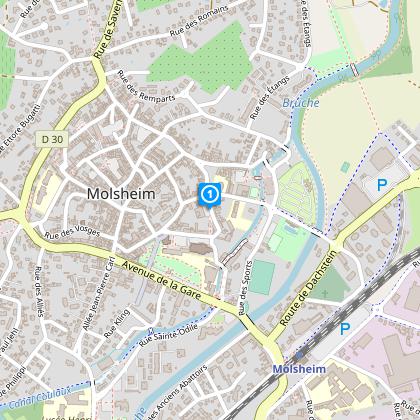 1

Dompeter church
1-19 Rue Sainte-Pétronille 67120 Avolsheim
Lat : 48.556393
Lng : 7.505012
0 m

Dam Vauban
The Dam of Avolsheim, also nicknamed "Small and large gates", was...Read more
1 Rue des Écluses 67120 Wolxheim
Lat : 48.565824
Lng : 7.499699
0 m

Sacred-Heart Statue
2 Chemin du Rott 67120 Wolxheim
Lat : 48.574116
Lng : 7.510688
0 m

Vineyard path Bruderthal
9 Rue des Promenades 67120 Molsheim
Lat : 48.546658
Lng : 7.485874
0 m

Eglise des Jésuites
L'Eglise des Jésuites est un élément clé...Read more
1 Rue Notre Dame 67120 Molsheim
Lat : 48.540488
Lng : 7.495921

Camping municipal de Molsheim
Situé à une vingtaine de kilomètres à...Read more
6 Rue des Sports 67120 Molsheim
Lat : 48.541259
Lng : 7.499939
0 m

Musée de la Chartreuse - Fondation Bugatti
Le musée de la Chartreuse est un lieu de passage incontournable...Read more
4 Cour des Chartreux 67120 Molsheim
Lat : 48.542837
Lng : 7.490236