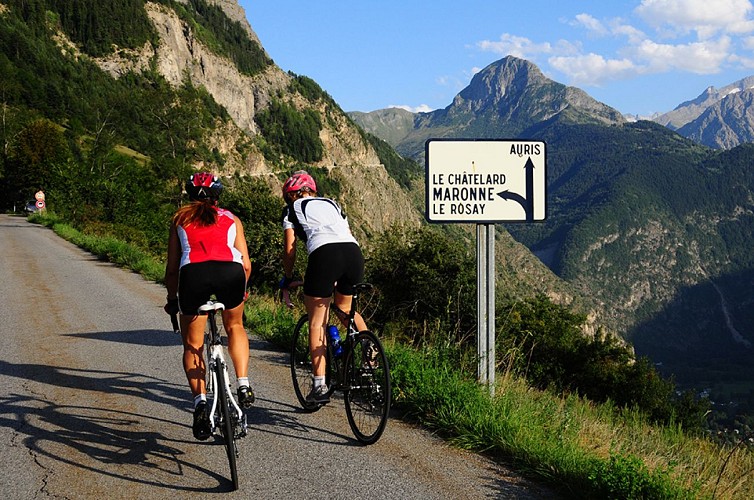 Le tour de la Croix de Cassini (n°8)
This long round trip has some strenuous sections. However, the varied and spectacular route will make up for the hardest parts.

Maximum altitude : 1999 m
Minimum altitude : 720 m
Positive difference in height : 1800 m
Max. incline : 12%
Nature of the route : loop
Cartographie : Michelin Carte Département Isère, Savoie n° 333

Cultural Informations : Clavans and the peddlers of l'Oisans

Clavans means "the key", since the village has always had the keys to the passes of La Valette and Quirlies, on the former border to Savoy. Its ancient houses still bear witness to the prosperity of the peddlers. It is during the long harsh winter months that those men went out to become peddlers. They would leave l'Oisans with their bundles in autumn to sell their goods across the whole of France and sometimes they would even take haberdashery and small household items as well as local plants, such as sweet-smelling oats, abroad. This plant, which is also known as 'bison herb', grew on the plateau of Emparis and was sold as far as Russia to flavour Russian vodka. Violets were sold for making herbal infusions.
Those travellers were called the 'swallows of l'Oisans', as they used to return to l'Oisans in early spring. Their return would be eagerly awaited by the locals to hear news from all over the world. These peddlers were the forerunners of modern door-to-door selling and sales representatives.
58 km

max. 1999 m

min. 717 m

2875 m

-2876 m

Altimetric profile

Accessibility