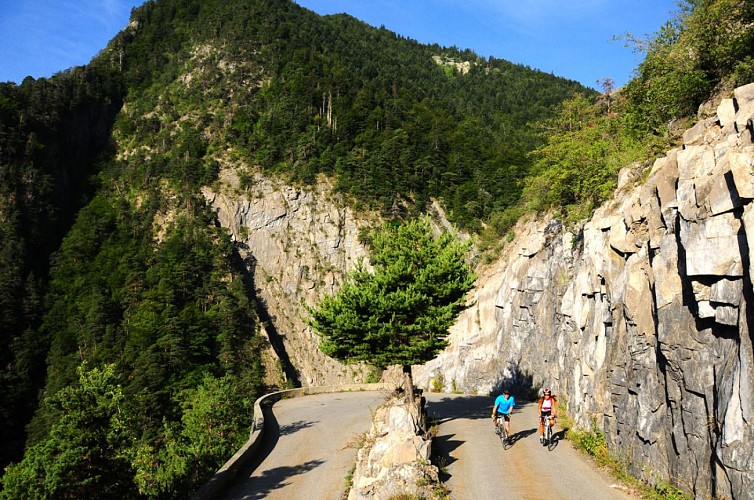 La grimpée d'Oulles (n°12)
It was not until 1963 that Oulles became accessible through the first proper road cut straight through the rock. This little mountain village facing the La Meije and the Ecrins mountains, which was thus inaccessible until quite recently, has preserved all its charm. In the Middle Ages there were also silver mines.
The narrow road is a little jewel of persistency. Old locals will remember the roadmen clinging to these vertical rocks to make their way straight through them when the road was built. The 7 km of hairpin bends are quite strenuous, but the uphill ride remains pleasant on this wooded slope with pine trees, sheltered from the wind, where you can breathe in the lovely smell of pine needles which is so reminiscent of the Mediterranean !

All bike informations on www.bike-oisans.com

Maximum altitude : 1420 m
Minimum altitude : 720 m
Max. incline : 10%
Total length : 22 km
Time : 1h15
Nature of the route : round trip
Cartography : Michelin Carte Département Isère, Savoie n° 333

The village of Oulles has maintained its mining activities for centuries. These mining activities, which first started in 1850, were even very intense, so that even houses were built for the miners. The silver, malachite, copper and quartz that was extracted from these mines was lowered down to the valley of the Romanche from a height of 1,700 m with ropes in order to be washed. But then World War I dealt a fatal blow to the mining activities and it was not until the second half of the 20th century that Oulles became accessible through the main road. And finally, here is another noteworthy fact: with its 9 inhabitants, Oulles is the smallest community in the entire Département.
11 km

max. 1417 m

min. 717 m

1713 m

-1015 m

Altimetric profile

Accessibility
Starting point
Mas du Plan
38520 Le bourg-d'oisans
Lat : 45.054
Lng : 6.03279
0 m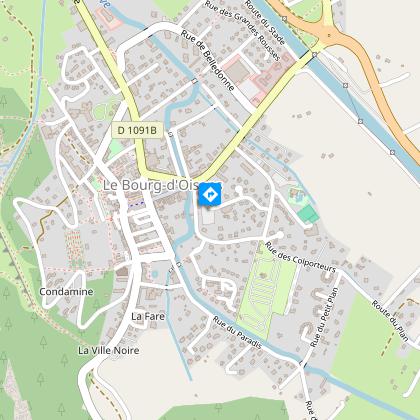 1
From Bourg d'Oisans take the RD1091 towards Grenoble.
Mas du Plan 38520 Le bourg-d'oisans
Lat : 45.054
Lng : 6.03272
0 m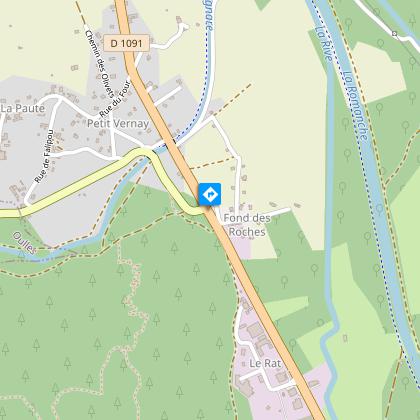 2
After 2 km turn left towards Valbonnais - Ornon on the D526. After 4.2 km, turn right onto the D221 towards Oulles.
Avenue de la Gare 38520 Le bourg-d'oisans
Lat : 45.0721
Lng : 6.01815
0 m 3
The road to Oulles, narrow and winding, was a challenge to build.
D526 38520 Oulles
Lat : 45.0697
Lng : 6.0008
0 m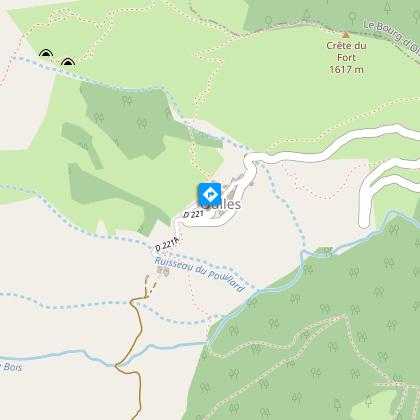 4
Les Grandes Rousses, la Meije, la Barre des Ecrins, le panorama est à couper le souffle. C'est celui dont profite Oulles, ce minuscule village niché dans un cul-de-sac en Oisans.

Retour par la même route.
Le Village 38520 Oulles
Lat : 45.0738
Lng : 5.98193
0 m