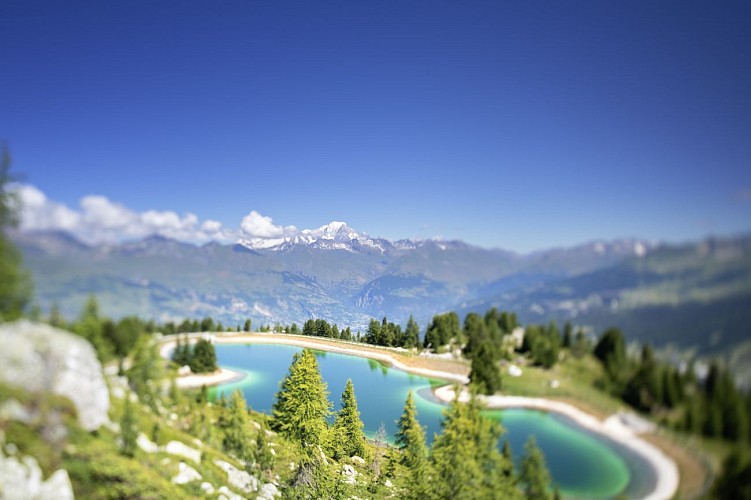 Hiking route: The Lac des Pierres Blanches starting from Plan Bois
This is a lovely walk through a forest of larch, spruce and Swiss pine trees. Although quite long, the walk is relatively flat and is a good choice for a family walk as the paths are well trodden.

From the top of the Lac Noir gondola, turn right (P) and take the path that crosses the mountainside, before coming onto a forest track (P). Go up to the right to reach a level section and then follow the flat forest track to the crossroads (P). Turn right and follow the track over a ski run, carrying on for around 1 km. Leave the forest track (P), taking a path that goes off to the right and comes out onto a small plateau (P). The path then goes off to the left and crosses the length of the plateau. The path is sometimes not very clear, but soon comes into view again, before a short climb up to a meadow (P). A path of white stones runs alongside you on the right and leads up to the small road (P). Turn right and walk between a large chalet and the top of the gondola. A path to the right (P) takes you to the lake in just 50 m.

You return via the same route, taking roughly the same amount of time. If you took the chair lift up to Lac Noir, remember to ask what time it closes to make sure you have enough time to get back.
9.1 km

max. 2120 m

min. 1853 m

230 m

230 m

Altimetric profile
Starting point
Plan Bois Plan Bois 1800m
73210 Montchavin-les-Coches
Lat : 45.5356
Lng : 6.73183
0 m

Le Poste
Specialities From here and there.You can join us easily in Alpine...Read more
Restaurant d'altitude Plan Bois 1800m 73210 Montchavin-les-Coches
Lat : 45.542
Lng : 6.72166
0 m

Chairlift of Montchavin
Montchavin 73210 Montchavin-les-Coches
Lat : 45.5593
Lng : 6.73766
0 m
4 informations complémentaires
Open period
From 29/06 to 31/08/2019.
Updated by
Office de Tourisme de la Grande Plagne - 16/07/2019

More information
https://base.apidae-tourisme.com/permalink/consulter/objet-touristique/230484/