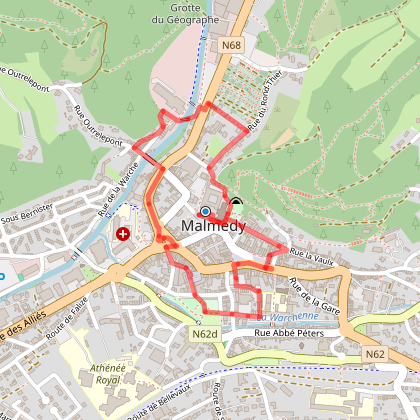 Walking rally in Malmedy 2020
Win a t-shirt "Malmedy" every week!

A winner will be drawn every week. Interested? Leave us your contact information (the personal data collected will only be used to answer in case of gain).

Name:

First name:

Address:

Date of participation:


Route

Starting from the Malmundarium (Q1) > Continue towards the Cathedral (Q2) > Turn left and head towards the end of the Cathedral Park (Q3) > Take the road on the left (Q4)> Then go along rue du Rond-Thier and follow the Extratrail. (Q5) > Cross over towards My Hotel and turn around it to enter rue de Bavière (Q6) > Turn left on Outrelepont Bridge (Q7) > Turn right after the bridge and continue until you reach place de Rome. (Q8) (Q9)>, Cross over to ruelle Catherine André, then ruelle Sinton to reach place de Cochem. (Q10) > Head towards the Parc des Tanneries (Q11) > Leave the park between the miniature golf course and the playground. > Keep going straight towards avenue de la Centenaire. (Q12) > Once you pass street number 15, take the alley on the left (Q13) > Head left towards place Saint-Géréon. (Q14)> Take the small alley in front of the bandstand going towards place Albert. > Head right and cross over at the obelisk. (Q15) towards the large car park > Follow the small passageway to rue du Vinâve > Instead of going towards Grètèdar Hall, take a left turn. (Q16) > Continue going towards the Cathedral (Q17) > You will end up in the park (Q18)> Head toward the esplanade (Q19) > Enjoy the sound of the cathedral chimes (Q20) > Return to the Malmundarium to hand in the questionnaire.
2.6 km

max. 0 m

min. 0 m

0 m

0 m
Lodgings nearby