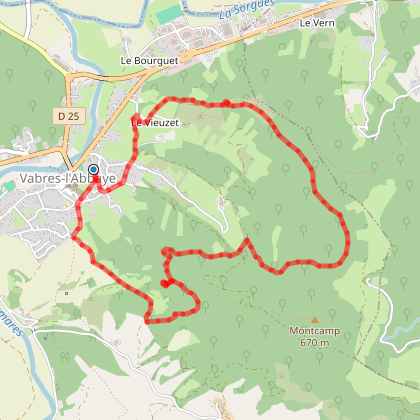 The grave walking tour via Saint-Apolit
A hike that runs on gentle slopes between the Sorgues and Dourdou valleys, throughout a landscape with stunning colours and where the past has left its mark: graves dating from the early Middle Ages and an old quarry.From the Camper van parking lot which is the starting point, take right the prohibited direction, walk behind the school and along the graveyard.In the Garelle district, turn to the left and follow the tarmac road up to the Balros intersection.At the Balros intersection, carry straight on towards Vanière, the Vieuzet, the Tombes, and the Joncas.At the edge of the Vieuzet, leave the tarmac road and take to the left a track that goes towards the Tombes and the Joncas.After walking 10 minutes on this path, you will find on the left side, a big marked rock on which are the Visigoth tombs. Carry on the path towards the Joncas.At the signpost ''Balros sud-est n°10 '', turn to the left and walk for 30 m, then take to the right.At the signpost ''Balros sud-est n°12 ", carry straight on towards the panoramic viewpoint.After 600 m, take the path that ascends to the left.After 150 m of uphill walking, you can enjoy the beautiful panorama. Turn to the left when leaving the viewpoint.At 100 m from the viewpoint on the right of the path is a signpost indicating a cave, 120 m further. This cave is an old sand quarry. At 160 m from the viewpoint is a signpost of ''Puech de la Martelle n°11'', turn to the right towards Vabres via Saint-Apolit.At the signpost ''Saint-Apolit n°14'' take right towards Vabres.On the way, pay attention to the large cypress tree planted against the Saint-Apolit cross.At the entrance of Vabres is the signpost ''Balise n°15'', turn to the right and walk downhill by the schoolchildren's path.At the signpost ''le Pesquier n°7'' in the la Garelle street, return your way by the small bridge, take to the right the small cemented road and walk back to the cars.
7.5 km

max. 525 m

min. 310 m

428 m

-427 m

Altimetric profile
Lodgings nearby
Starting point
Lat : 43.945345
Lng : 2.8395836
7 informations complémentaires
Departure
Camper van parking in Vabres l'Abbaye
Arrival
Camper van parking in Vabres l'Abbaye
Ambiance
Throughout broom bushes and woodlands of the Joncas, this hiking loop which features a very accessible difference in altitude (343m) invites you to take a stroll back in time with Visigoth tombs, a disused sand quarry and the Saint-Apolit cave. The highlight of the hike is to be enjoyed on a ridge: a panoramic viewpoint over the shimmering landscapes of the Sorgues and Dourdou valleys.
Access
On the D999 which links Millau to Albi, 4 km after Saint-Affrique exit
Advised parking
Camper van parking in Vabres l'Abbaye
Public transport
Getting around by bus or by train: https://lio.laregion.fr/ Carsharing: BlaBlaCar, Rézo Pouce, Mobicoop, Idvroom, LaRoueVerte, Roulez malin 
Advice
Box tree months are active from May to October. During the caterpillar phase, they feed on the leaves of box trees. They crawl down trees and move on long silken threads, although these threads are annoying when hiking they do not pose any health risk