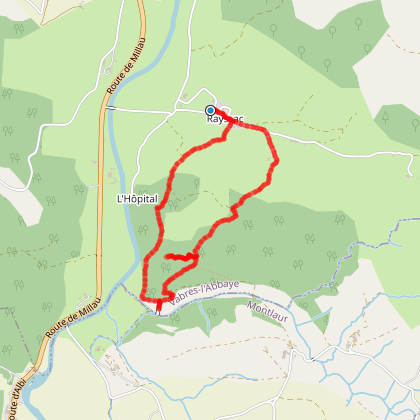 Rayssac hiking trail (short version)
Starting from a red sandstone hamlet, this pleasant walk will lead you through woodland and small valleys so that you can explore the wealth of a surprising heritage which bears witness to the  manufacturing of sarcophagus during the Middle-Ages.When leaving the carpark, turn right and walk up the single street for 180 m.At the stone cross turn to the right, following signs for "Aqueduc direct".At the junction with a wider path (trail), head to the right and follow the trail for 300 m up to an intermittent stream.After a short ascent, go left and follow the path that runs along the ridge. Turn to the right after 250 m. Walk downhill through an oak grove up to the well restored water bridge.Follow the trail for 50 m, then leave it and turn left following the sign "Rayssac par les tombes".Walk up the pathMake a round trip to the tombs, then follow the wide trail.At the intersection turn right, then reach the road that leads to the village.
4.6 km

max. 416 m

min. 328 m

184 m

-184 m

Altimetric profile
Lodgings nearby
Starting point
Lat : 43.9093
Lng : 2.831248

La laiterie
Une partie de ce bâtiment a abrité la laiterie du village. Elle était...Read more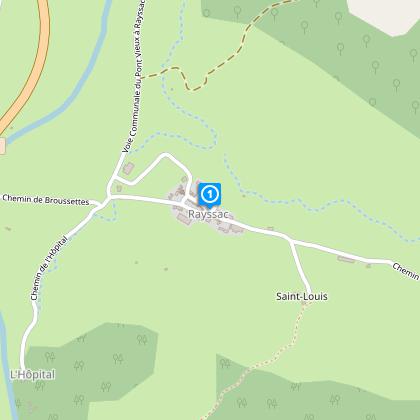 1
Une partie de ce bâtiment a abrité la laiterie du village. Elle était louée par les caves de Roquefort Société. Une ouvrière de Société y produisait les fromages avec le lait collecté dans le village et les alentours (environ 15 à 20 roquefort par jour). Ces fromages étaient ensuite collectés une fois par semaine, par une charette qui les amenait aux caves de Roquefort.La laiterie a cessé son acitivité au milieu des années 1950. A partir de cette date, les villageois apportaèrent leur lait à la laiterie de Vabres l'Abbaye.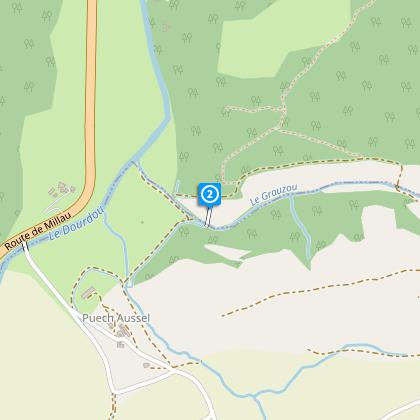 2
Au cours du 19è siècle les préocupations liées à l'insuffisance en eau étaient déjà d'actualité. C'est ainsi que dès 1862 le projet de la construction d'un canal d'irrigation depuis les rives du Dourdou se dessine. L'initiateur du projet est Hippolyte Barascud. Ce projet controversé de canal d'irrigation de 9km verra le jour avec les 1er travaux vers 1865. Le canal s'étire de Montlaur à la ferme de Montet (au sud de Vabres l'Abbaye). Cet ouvrage construit proche de la rivière subit les caprices de celle-ci. En effet les crues du Dourdou provoquent l'ensablement du canal et sa détérioration. Au final, ce canal aura rendu service durant un peu plus d'1 siècle. Les coûts d'entretient et la grande quantité de temps nécessaire à son entretien auront raison de sa prénnité.
Vabres-l'abbaye
Lat : 43.8972
Lng : 2.82668
n/a m
1 informations complémentaires
Departure
Rayssac (Commune de Vabres l'Abbaye)