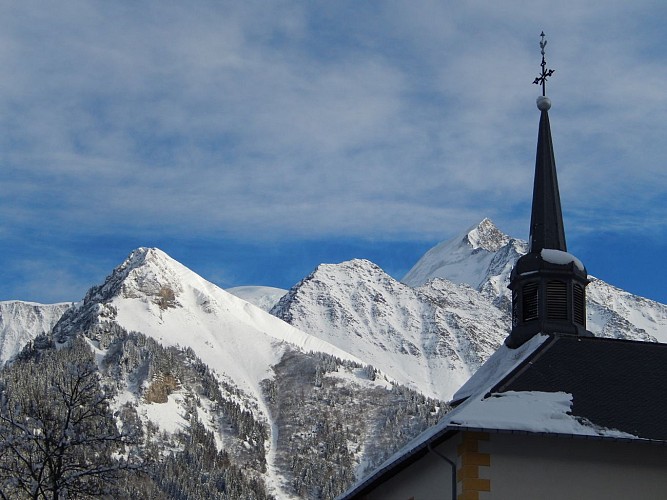 Le Sentier du Baroque - De Saint Gervais à Saint Nicolas
This charming and relatively easy walk enables you to discover the treasures of baroque art in the Mont-Blanc region.

Cross the avenue du Mont d'Arbois (leaving the main avenue towards Megeve) to use the road from the cable car to the hotel Carlina. Then take the path Eglantiers that starts on the left of the hotel and join the Orsin road (road to the Bettex). At this level, come slightly to your left and then cross the road to take you in front of the castle road (follow the direction of "the Farm Cupellin"). You will need around 15 minutes from the starting point to achieve the top of this road and join the road Ponthieux and the Path of the Baroque.
You can now turn left following the trail markup or make a small hook that will only take 5 minutes to see the chapel of Cupellin (right then immediately across the road Cupellin and finally right the way Chapel).
You will discover along your walk Brettey the Oratory of the Chapels of Gollet, Combe, Plans, the Oratory of Crozat, the chapel of Chattrix and the Church of St. Nicolas de Véroce. You will also admire the Mont Blanc that is revealed during the route.
10 km

max. 1190 m

min. 803 m

150 m

0 m

Altimetric profile
Starting point
Le sentier du Baroque
74170 Saint-Gervais-les-Bains
Lat : 45.89041
Lng : 6.70766

Baroque Church of Saint Nicolas de Véroce
The church of Saint-Nicolas is one of the crown jewels of Alpine Baroque...Read more
Lat : 45.854862
Lng : 6.723053
0 m

Saint-Gervais Church
Lat : 45.892152
Lng : 6.71138
0 m

Boucle Baroque : Eglise de Saint-Nicolas, les chapelles des Plans et des Chattrix
Dive into the heart of the 18th century time for a walk with Claire,...Read more
Lat : 45.854862
Lng : 6.723053
5 informations complémentaires
Contact
Phone : 04 50 47 76 08

Email : tourisme@saintgervais.com

Open period
From 30/04 to 30/11.

Subject to favorable snow and weather conditions.
Updated by
Office de Tourisme de Saint-Gervais Mont-Blanc - 17/06/2020

Tips
The booklet "Sentier du Baroque", detailing each of chapels, churches and oratories is on sale in the Tourist office.