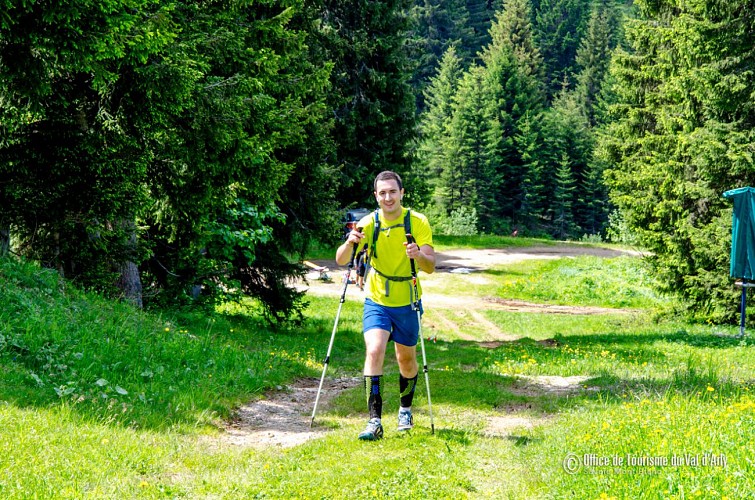 Walk the grassy slopes of Petit Croisse Baulet, you guaranteed a breathtaking panoramic view of the entire Mont Blanc massif and the surrounding peaks of the Aravis.

From the parking of the PLAN join the hamlet of CRÉPINIÈRE, then take the path which passes first in a fairly dense forest area. Exit the forest at 1470m, go to the alpine chalet at 1550 m, then take the direction of the ALPAGE DE RAMADIEU (1660m). Cross on the right 100m above the chalet to gain the HEAD OF RAMADIEU by a small combe. FROM THE HEAD, win the PETIT CROISSE BAULET staying on the ridge. To go down again, go to the PRE DU COL (1747m) then the COL DU JAILLET (1723m), THE TOURBIÈRE OF JAILLET (1708m), LE PLANET (1510m), THE ILES (1321m) and finally the PONT DU MOULIN ( 1294m). Return to the CRÉPINIÈRE then to the car park by the same route.

Variation: at ALPAGE DE RAMADIEU (1660m), take direction LE CHAR (1660m) then join the TOURBIÈRE DU JAILLET (1708m).

POINT OF INTEREST :
At the top of Petit Croisse Baulet, the view is absolutely grandiose, one of the most beautiful views of Haute-Savoie. Indeed, from the top, we can contemplate the chain of Mont Blanc, but also the Aravis just behind, and Fiz more left.
9.7 km

max. 1988 m

min. 1227 m

490 m

490 m

Altimetric profile
5 informations complémentaires
Open period
From 01/06 to 31/10.
Reception conditions for animals
Pets allowed on a leash only.
Location complements
Departure: the Plan parking (1220 m). On the D909 between Flumet and the Col des Aravis in the Giettaz (direction uphill) turn right towards Le Plan (access ski area). If no place in the Plan, park at La Crepinière.