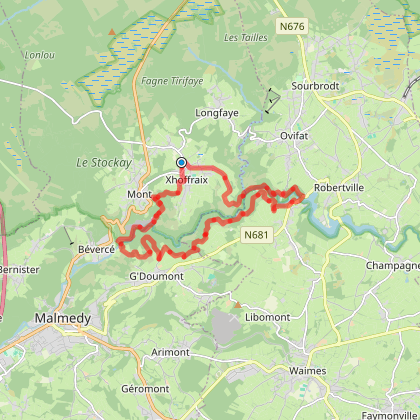 "Xhoffraix Panoramic vision/The wild river 'Warche' "
Between steep rocks and wild rivers, this long and beautiful walk criss-crosses the Warche Valley.

"Xhoffraix" protects itself from the environment with a cloak of green in the form of forests and shrubs. From its steep inclines flow waterfalls and streams. Its location is the perfect starting point for hiking routes. At a turn of a bend you will marvel at the magnificent view over the Warche valley. As you reach the river via a steep path, you enter a small canyon that will take you to the foot of beautifully restored Reinhardstein Castle. There's a small donkey trail that leads to the ridges. At the top, the route begins to wind, hugging the curves of the relief and offering panoramas of the narrow valley. Further on, the trail tumbles to the "Moulin" campsite. The river leading to "Coreu" creek, lifts you to "Xhoffraix", a dramatic finale to this demanding hike.
17 km

max. 519 m

min. 360 m

1301 m

-1311 m

Altimetric profile
Lodgings nearby