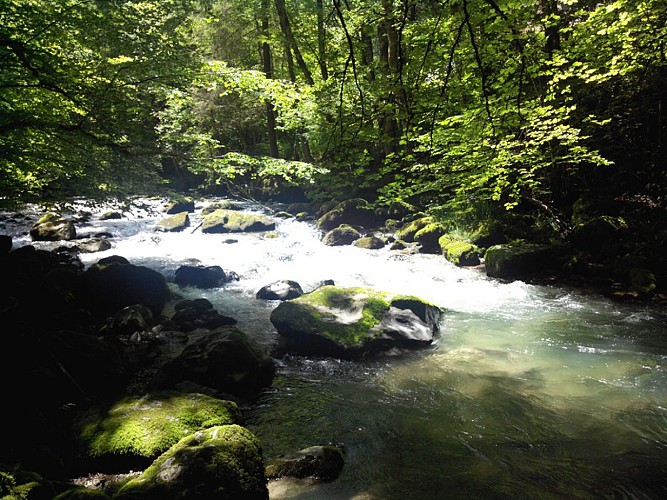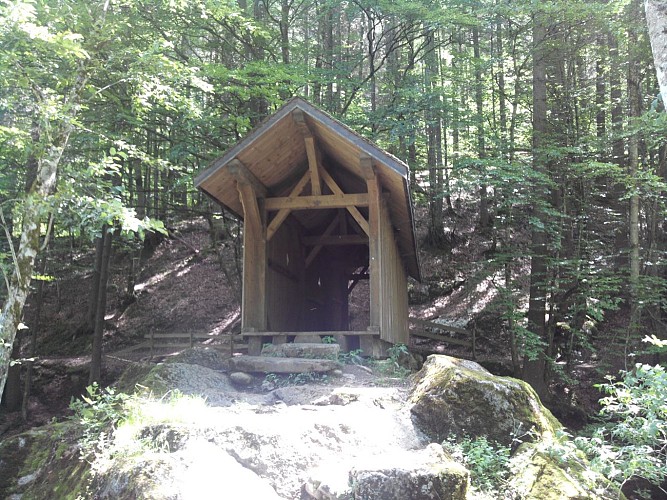 "Les Berges du Brevon" Hike
This riverside and woodland walk is perfect for sunny days and won't make you want to go on difficult climbs. A refreshing spot minutes from the village.
Nature and Heritage:
The source of the Brevon, (Bièvre meaning "beaver" in old French) or Dranse de Bellevaux, is near the Roc d'Enfer at an altitude of 1450m. After a few kilometres in Petetoz Forest, the Brevon reaches the hamlet of La Chèvrerie where it pools into Lac de Vallon. It runs up to Bellevaux then ends its 22km run in the Dranse de Morzine.
Route details:
Cross the covered bridge and turn left onto the path along the Brevon until the Pont des Doubines (sawmill on the right) and follow Buchille forest road for approximately 300m then turn left down a path to a sawmill. After 250m, turn left until you reach the La Cressonnière footbridge. Cross the footbridge and join the tarmac Chez Maurice road, turn left and continue (the road will turn into a path) until you reach Bossons where you should follow the road to the centre via the Courtyard.
Useful information: PDIPR markings
Useful information: Yellow markings/High point: Rocher du Châtelard 1051m.
4.5 km

max. 904 m

min. 809 m

100 m

100 m

Altimetric profile
Lodgings nearby
Starting point
Chef-lieu Mairie
74470 Bellevaux
Lat : 46.25661
Lng : 6.531016

Le Brevon
The river that gives its name to our valley rises at the foot of Roc...Read more
Lat : 46.252363
Lng : 6.53159

Covered bridge
This bridge is more than 150 yo, and one of the last in the Chablais...Read more
Lat : 46.257178
Lng : 6.532027

Bar Tabac Presse du Roc d'Enfer
Jeux - Loto Bar - Boisson à Emporter Librairie - Presse...Read more
Lat : 46.256453
Lng : 6.530436

Hotel Les Moineaux
Hôtel les Moineaux provides wellbeing and relaxaton in Brevon Valley....Read more
Lat : 46.264381
Lng : 6.53694

Les Moineaux
A magical moment, a warm welcome, a great atmosphere and a family...Read more
Lat : 46.263977
Lng : 6.537648

History and traditions museum
Fascinating insight into the history of Bellevaux, from times past...Read more
Lat : 46.255587
Lng : 6.529757

Musée de la Faune
Lat : 46.256606
Lng : 6.530689

Mueseum of Wildlife
In this museum, you will see more than 140 animals from our maintains...Read more
Lat : 46.256606
Lng : 6.530689
2 informations complémentaires
Updated by
Office de Tourisme des Alpes du Léman - 24/06/2021