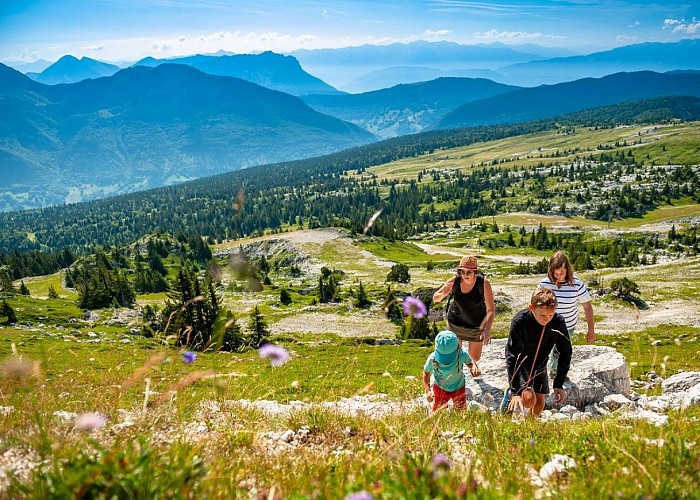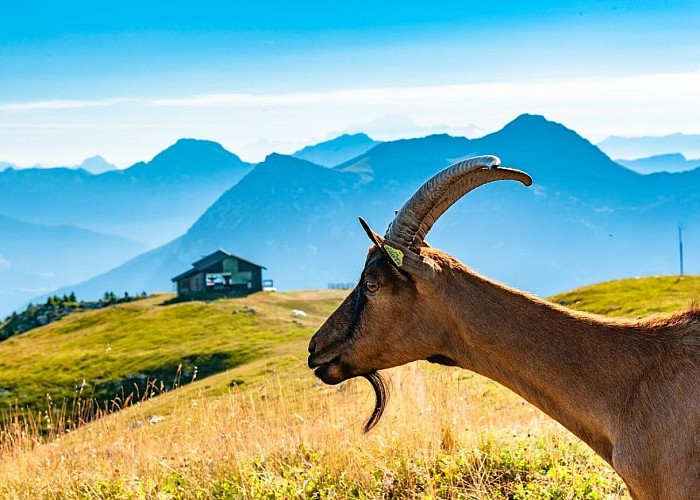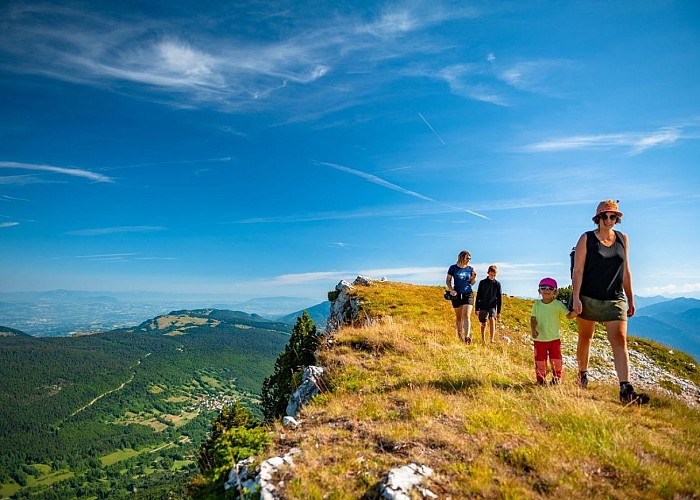 Footpath Tannes et glacières du Margériaz
Margeriaz's vast limestone plateau abounds in holes called "tannes". An often strange and always spectacular landscape has emerged and keeps changing before our eyes: the karst. This waymarked walking route has 9 information boards.
From the "Place à Baban" go up into the forest by following the discovery trail logo, cross a rocky labyrinth.
At point 4 on the "Grand Raffou" 1,590 m (Refou on the IGN map), it's possible to turn off at the "Chalets de la Bergerie" to follow the short loop walk, otherwise the route leads towards the crest and offers a panoramic view of the surrounding peaks.
At point 6 of the markings the discovery trail continues to descend, but you can also prolong it up to the crest then to the top (100 m more to climb). After a return trip, go back on the discovery trail which you follow downhill to arrive near the "Chalets de Margériaz". The trail goes into the forest, passes beside the "Tannes aux Cochons" (chasm where potholing is possible) and other different chasms then returns to the starting point.

A guide book is on sale in the Tourist Offices for €2.50.
There is also a shorter loop walk: 200 m difference in height (2 hrs return trip).
5.4 km

max. 1740 m

min. 1332 m

420 m

420 m

Altimetric profile
Lodgings nearby
Starting point
Place à Baban Aillon le jeune
73340 Aillon-le-Jeune
Lat : 45.63487
Lng : 6.0675

Spéléorando (Caving) in the Porte Cochère-Tanne du Névé
Explore an underground world, in an secure environment at your own...Read more
Lat : 45.626795
Lng : 6.078922

Aillons-Margeriaz sled dogs farm
Ride behind a real dog sled team for a wild magical experience !
Lat : 45.644455
Lng : 6.063687

Pissieu Waterfall
Pissieu waterfall forms just downstream from a source into which most...Read more
Lat : 45.687355
Lng : 6.116724
4 informations complémentaires
Open period
From 05/01 to 11/30 : open daily.
Updated by
Grand Chambéry Alpes Tourisme - 09/01/2021