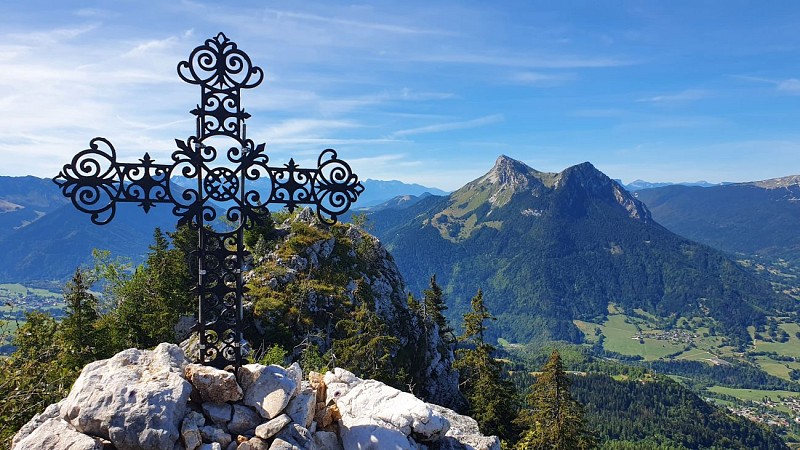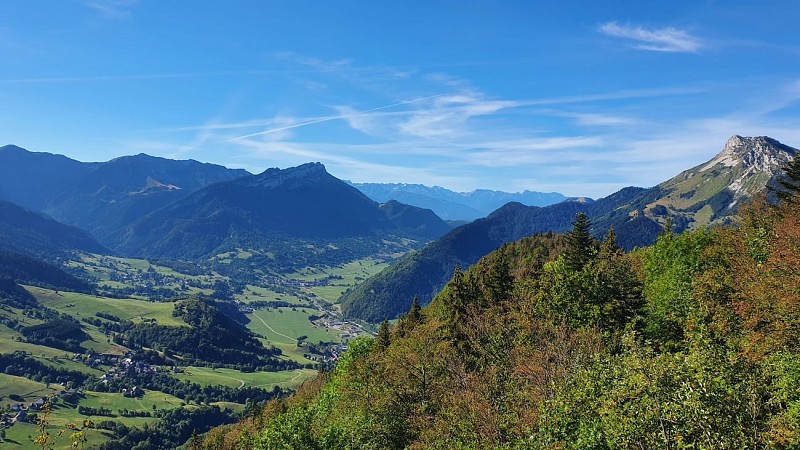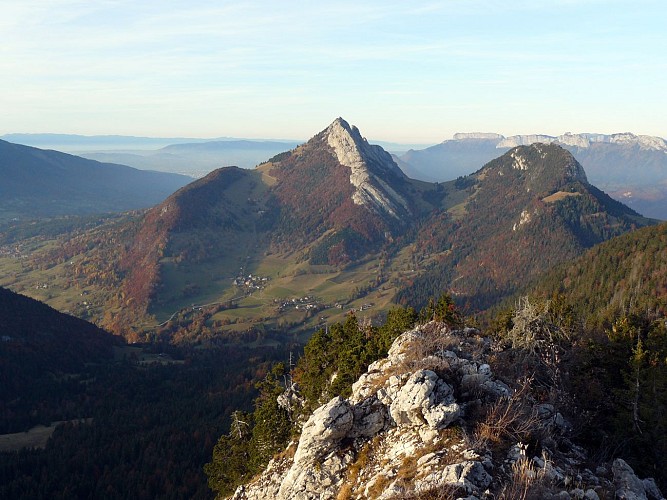 This summit with a modest altitude offers a stunning panorama of the valley. Be careful on the passages in the steep rocks during the last metres of the climb.
From the village of Châtelard, make your way to the hamlet of Les Garins (road opposite the pharmacy). Park at the end of the road. Take the track (white-red/GR 96) which rises into the meadows, passing close to two stone chalets (gite/refuge). After 3 hairpin bends, the track comes back on the mountainside towards "Col du Plane". Then get off it for a steep path on your right. Higher up, turn off towards the left. You walk on the ridge in the forest and through the rocks which are pleasant and easy to climb. You are now overlooking the Doucy Valley and its villages at the foot of the imposing mass of Trélod Mountain. After the first peak (1,645 m), follow the ridge up to the summit. Go back down via the same route until the forestry road then find, opposite the junction to the forestry track, the old path which descends directly to the Gîte des Garins.
8.5 km

max. 1673 m

min. 1064 m

560 m

560 m

Altimetric profile
Starting point
Hameau des Garins
73630 Le Châtelard
Lat : 45.69099
Lng : 6.14445

The Masters of deserted Mount
In 1931, a natural disaster struck Garins, when heavy rainfall caused...Read more
Lat : 45.691165
Lng : 6.14441

Les Garins's mountain lodge
Accessible by car (5mn on foot from the car park). 2 yurts from 5...Read more
Lat : 45.691165
Lng : 6.14441
4 informations complémentaires
Contact
Phone : 04 79 54 84 28

Email : accueil.bauges@grandchamberyalpes-tourisme.com

Website : www.lesbauges.com

Open period
From 05/01 to 10/31 : open daily.
Updated by
Grand Chambéry Alpes Tourisme - 27/04/2020