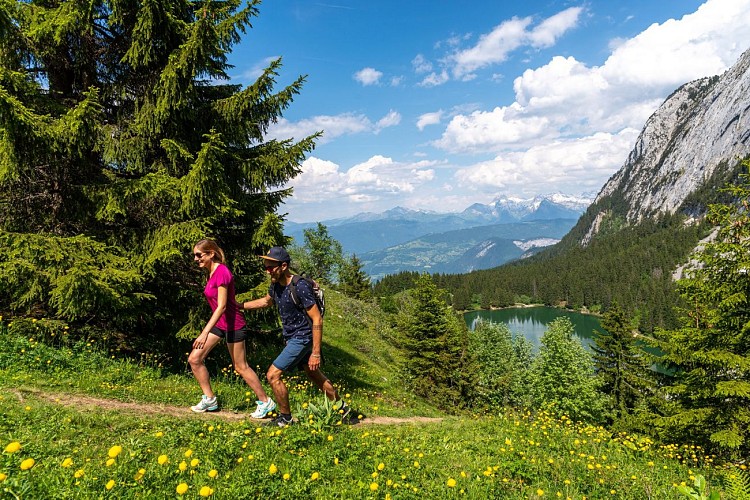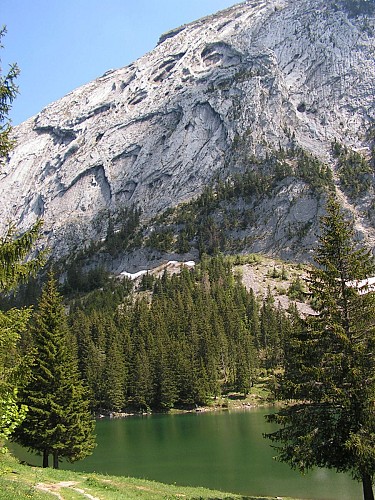 A lovely family walk that offers a wonderful view of the surrounding valleys and mountains. The calm and the tranquility with the freshness of the pines are ensured by the lake.
Starting point: Parking du Bété on the road from Morsullaz to Mont Saxonnex
Height start: 1160 m
Arrival altitude: 1500 m
Reference carto: Hiking guide from the tourist office
Level of the hike: family hike
Marking: departmental

Round trip itinerary:
From Bété (parking) to the blessed lake: 1h15
From the car park, follow the wide track which goes up in the direction of Lac Bénit. It goes up in the forest before going alongside the ski lift. In front of you, the two characteristic eyes of little Bargy. At the Pierre à Muselire, descend by the lake. The return is by the same route.

To make the Lac Bénit loop more:
From Lac Bénit to Morsullaz (parking): 1h20
Go up to the Pierre à Muselire sign. Go left towards Enténiou. Go around the top of the chairlift on the left to descend towards Morsullaz (parking). Under the cliffs of Grand Bargy, you will reach the ski slope. Take a right to enter the forest and join the departure of the chairlift.

From Morsullaz (parking) to Bété (parking): 25 minutes
Follow the path on the right across the fields towards Les Côtes. At Bété d´en Haut, leave the path and take the paved road which will bring you back to the Bété car park.
7.8 km

max. 1580 m

min. 1148 m

390 m

390 m

Altimetric profile
Starting point
Parking du Bété Route de Morsullaz
74130 Mont-Saxonnex
Lat : 46.04141
Lng : 6.48757

Blessed lake
Lake Bénit, at 1477m above sea level, nestles at the foot of the chain...Read more
Lat : 46.028733
Lng : 6.505108

The eyes of the Bargy
Looking towards the mountain of Bargy, you will discover his eyes...Read more
Lat : 46.025843
Lng : 6.510129
4 informations complémentaires
Updated by
Cluses Arve & montagnes Tourisme - 28/05/2020

Open period
From 01/04 to 15/11.