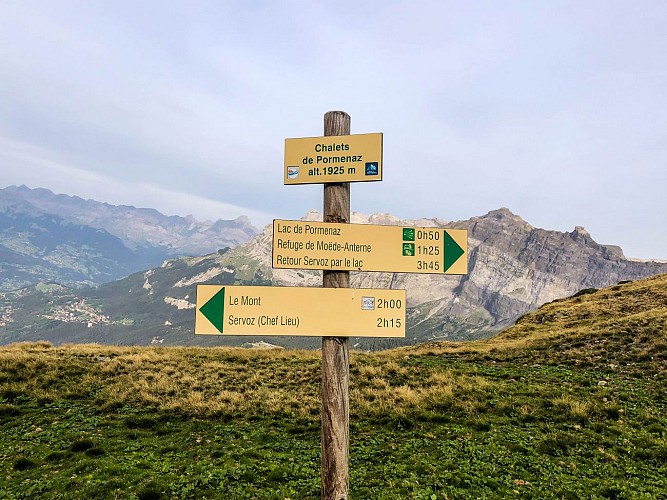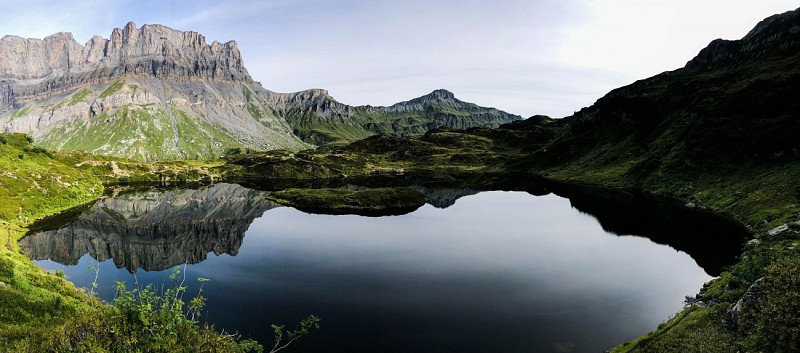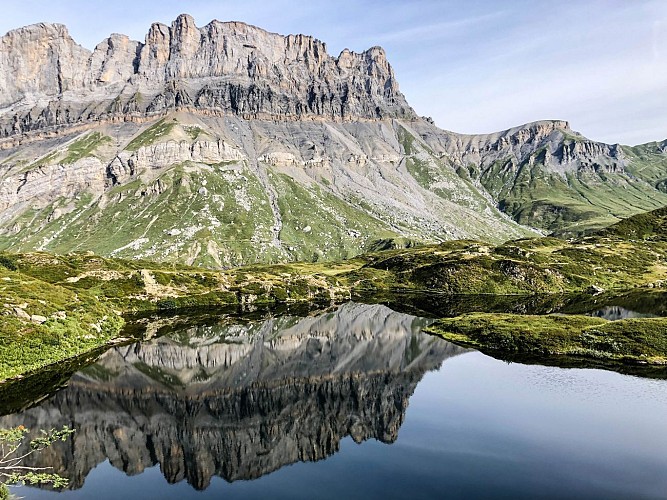 Hike to alpine pasture et the lake of Pormenaz
Lake situated near the Pormenaz alpine pastures, a mountain just above Servoz
and Passy not far from the Moede-Anterne refuge. Fishing is possible in the lake.
From the pretty fountain, take the route de la Cote to the first bend. Here a footpath goes off to the right in the direction of the Gorges de la Diosaz and crosses the Torrent du Souay. Follow the path upwards, ignoring the paths to the Tête de la Fontaine and to la Bajulaz on your right. Carry on up a steep slope to a pyramidal marker to reach the Chalets de Pormenaz (1 925 m) 3 h. The path now flattens out as you traverse towards the Chalets de Chavanne Neuve (15 minutes from the route to Pointe Noire de Pormenaz: don't miss the geological curiosity here) and then on towards the Lac de Pormenaz.

Starting point: It is possible to start from the Moulins d'en-Haut 859 m above
Servoz and join the path described above near the torrent du Souay.
Others itineraries available from Servoz or Passy.
More information at the Tourist Office, High Mountain Office and in our hiking guide.
Careful : Tracks conditions may change, let us remind you to be well-informed before going.
15 km

max. 2009 m

min. 950 m

987 m

987 m

Altimetric profile
Starting point
Route de la côte Le Mont
74310 Servoz
Lat : 45.9398
Lng : 6.76723

Lake and mountain of Pormenaz
In the heart of the nature reserve, the lake of Pormenaz is perched...Read more
Lat : 45.9619
Lng : 6.7941

Gare SNCF - Servoz
Lat : 45.9245
Lng : 6.76349
0 m

La Tête de la Fontaine
Natural site in balcony of Diosaz, torrent of Servoz.
Lat : 45.9374
Lng : 6.77739

Maison du Lieutenant
In a historical building, discover a exhibition about mountain agriculture,...Read more
Lat : 45.9396
Lng : 6.76727
0 m

Le Lac car park
Free parking of Le Lac next to the train station of Servoz. Maximal...Read more
Lat : 45.9243
Lng : 6.76301
4 informations complémentaires
Contact
Phone :
04 50 53 22 08
04 50 47 21 68

Email : ohm-info@chamoniarde.com

Website : www.chamoniarde.com/

Open period
From 15/05 to 15/10.

Subject to favorable snow and weather conditions.
Updated by
Office de Tourisme de la Vallée de Chamonix-Mont-Blanc - 14/12/2019