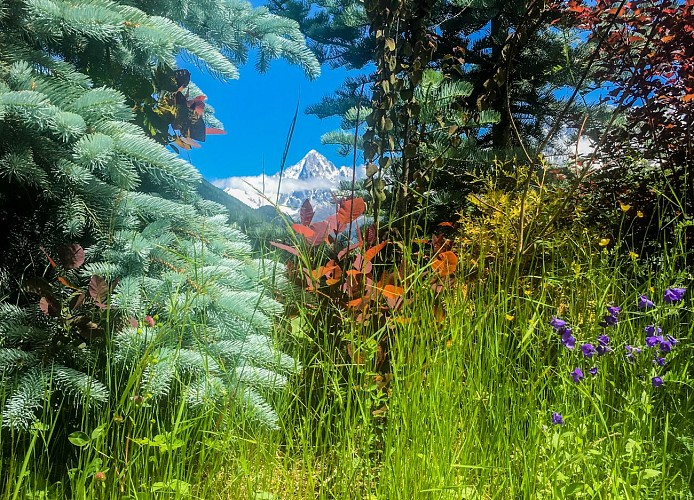 Trail Chavants to Col de la Forclaz via Charousse
A pass situated in the middle of a forest of spruce. This route was used by the
Romans (1st century) to link the Saint-Gervais and Chamonix valleys.
On the Tour du Mont-Blanc trail.

At the top of the village, turn right along the road to la Cote des Chavants. Turn left up the path to the Granges des Chavants (1 256 m) 0 h 40. On the left a path goes off to the Col de Voza. Turn right and take a footpath which crosses several gullies and plunges into the forest (Vaudagne reservoir). At a bend, (1 282 m), the path joins the forest track coming from Vaudagne which climbs fairly steeply up to the col.

Tours : It is possible to drop down to Vaudagne via Mont-Borrel and les
Bouchards, one section of this path being a GRP variation. • It is also worthwhile
returning via the village of Vieux Servoz and Servoz taking the GRP alternative
route via Montcoutant and le Chatelard on the way down.

Others itineraries available from Vaudagne or Le Prarion.
More information at the Tourist Office, High Mountain Office and in our hiking guide.
Careful : Tracks conditions may change, let us remind you to be well-informed before going.
9.6 km

max. 1543 m

min. 1006 m

541 m

541 m

Altimetric profile
Starting point
Lac des chavants
74310 Les Houches
Lat : 45.8954
Lng : 6.78251

Charousse pasture
Haven of peace, isolated in the valley of Chamonix, the Charousse...Read more
Lat : 45.901
Lng : 6.76545

Prarion Lift
Take place and appreciate the comfort of the panoramic 8 places cabins...Read more
Lat : 45.8946
Lng : 6.78181

Prarion car park
Free parking of Le Prarion. Long stay parking.Official parking...Read more
Lat : 45.8945
Lng : 6.78098

Chavants car park
Free parkings of Les Chavants.! Maximal parking time: 24hrs.
Lat : 45.8958
Lng : 6.78141

Arrêt SNCF - Viaduc Ste Marie
Lat : 45.8971
Lng : 6.78492

Bus - Le Prarion
Ligne 1 Ligne v1 (été) Ligne 15 (hiver) Ligne...Read more
Lat : 45.8946
Lng : 6.7825
4 informations complémentaires
Open period
From 15/06 to 25/09.

Subject to favorable snow and weather conditions.
Updated by
Office de Tourisme de la Vallée de Chamonix-Mont-Blanc - 14/12/2019