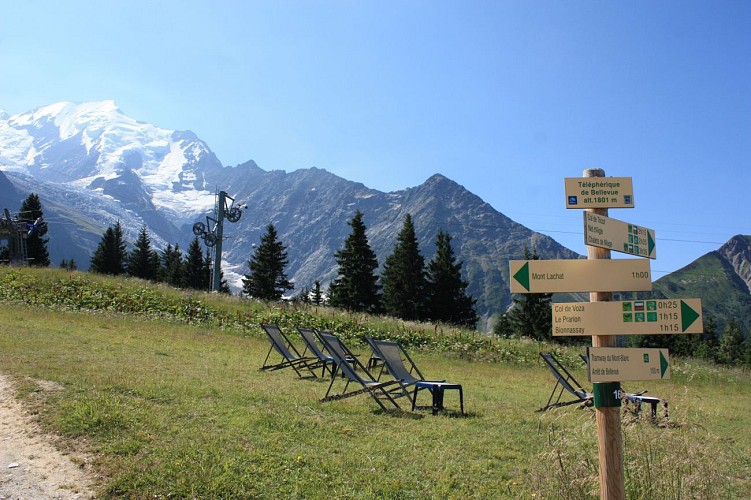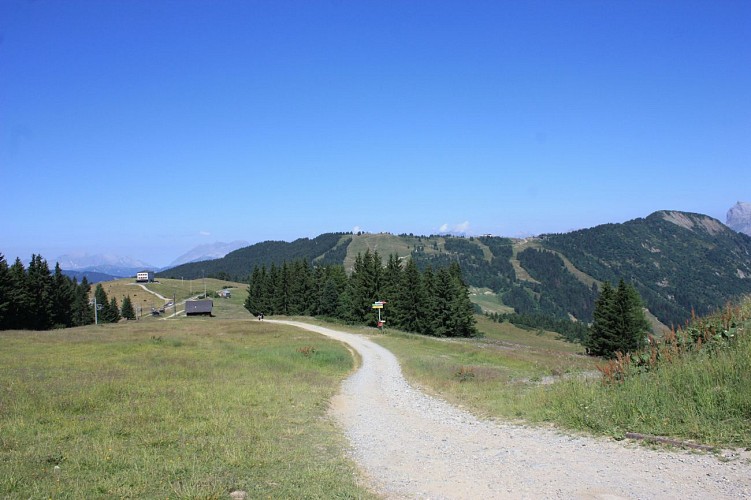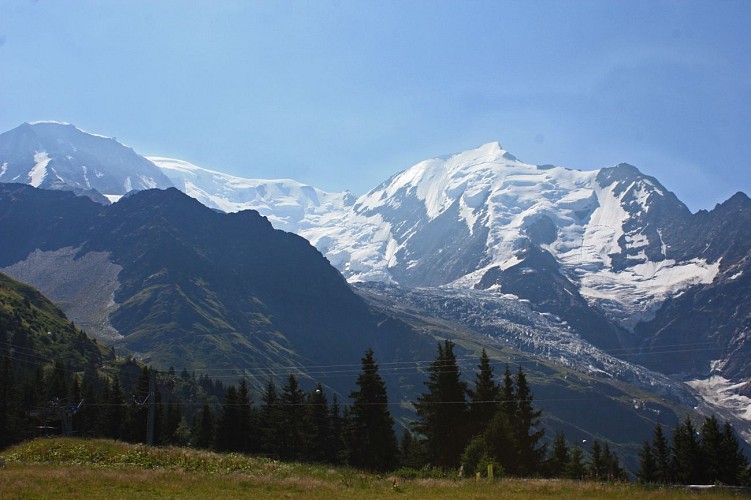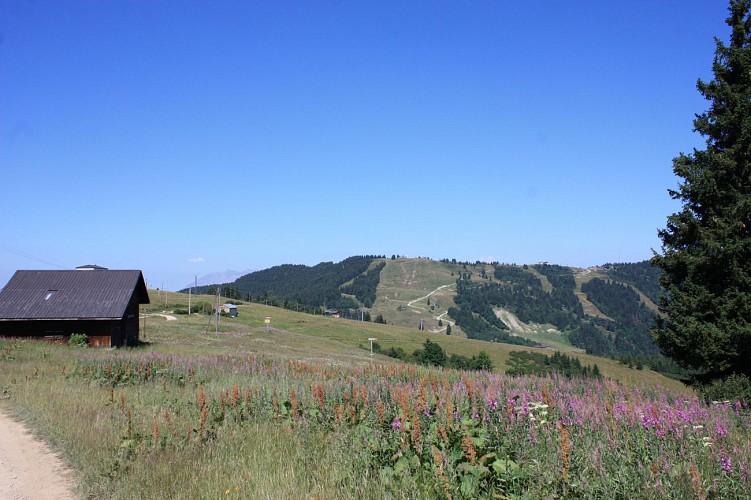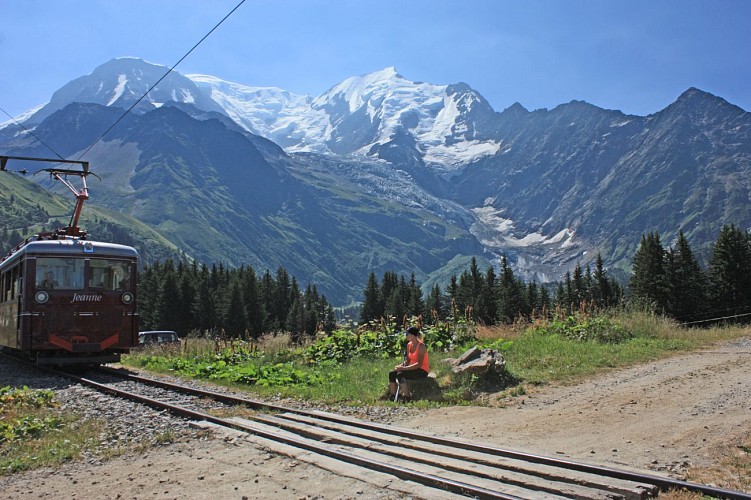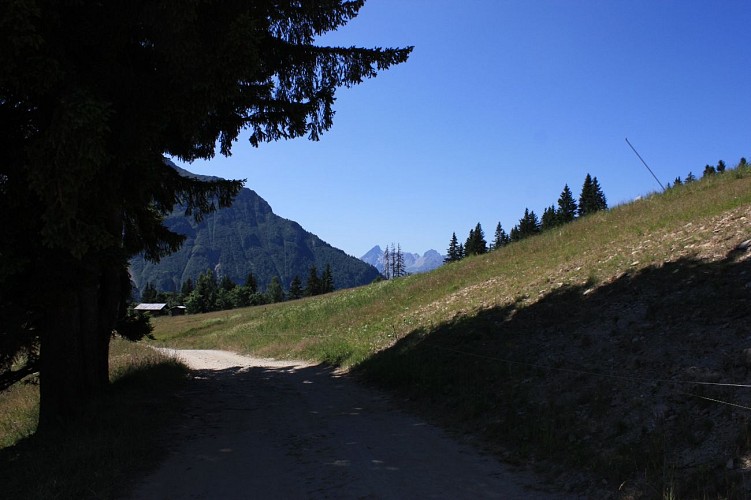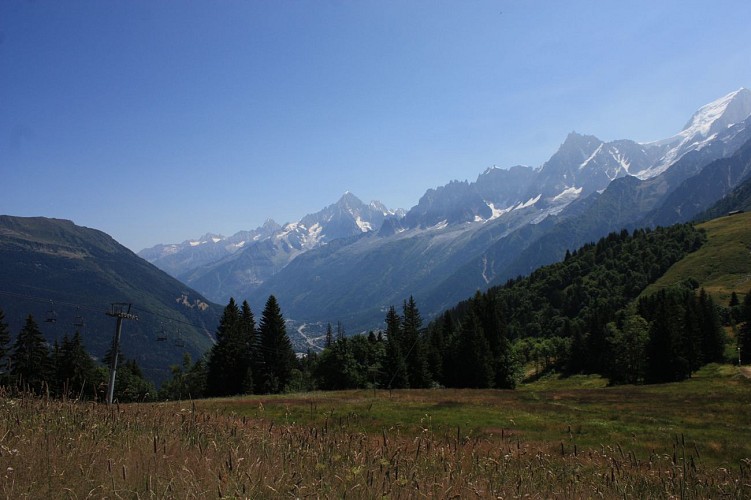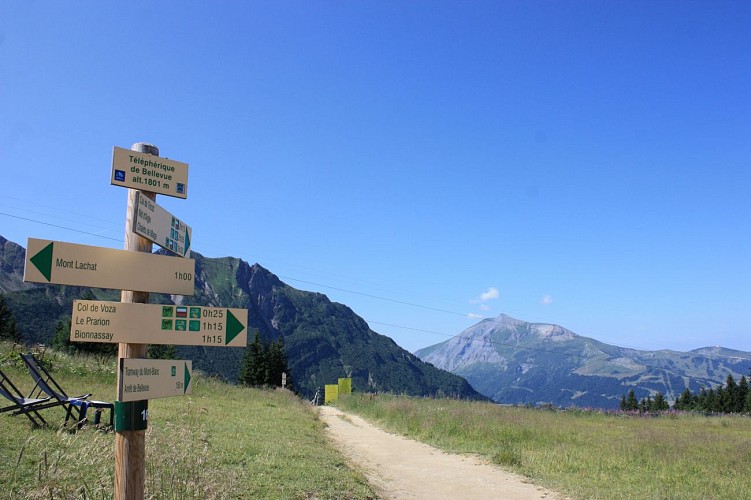 Grand Balcon Nord : Bellevue - Prarion
Mid mountain walk along the northern slopes of the valley. The starting
and ending points of the walks can be reached using different lifts. These route
can all be hiked both ways but the following description suggest the nicer way
to enjoy these walk (better views, not as steep, etc.)
Leave the cable-car station and go down on the left below the old Hotel de
Bellevue. Views over the Bionnassay and Gouter Aiguilles. Walk along the tracks
of the Cable-car du Mont-Blanc. Down on the right is an alpine pasture still used
for grazing. Join the Col de Voza (1 653 m). Follow the path on the right leading
up to the Prarion Hotel and the LHSG Gondola station (1 853 m).

Possible to start from Les Houches.
More information at the Tourist Office, High Mountain Office and in our hiking guide.
Careful : Tracks conditions may change, let us remind you to be well-informed before going.
3.3 km

max. 1852 m

min. 1652 m

210 m

151 m

Altimetric profile
Lodgings nearby
Starting point
Gare d'arrivée du téléphérique de Bellevue
74310 Les Houches
Lat : 45.873893
Lng : 6.77938

Arrêt SNCF - Viaduc Ste Marie
Lat : 45.897102
Lng : 6.784916

Bus - Bellevue
Ligne 1 Ligne 3 Ligne V1 (été) Ligne 15 (hiver)
Lat : 45.8897
Lng : 6.789302

Bus - Le Prarion
Ligne 1 Ligne v1 (été) Ligne 15 (hiver) Ligne...Read more
Lat : 45.894601
Lng : 6.782499

Col de Voza
The Col de Voza is located in the Mont Blanc massif above Les Houches....Read more
Lat : 45.876744
Lng : 6.761398
0 m

Bellevue car park
Outdoor free car park. Be careful: the car park is reserved...Read more
Lat : 45.889489
Lng : 6.789221

Prarion car park
Free parking of Le Prarion. Long stay parking.Official parking...Read more
Lat : 45.894535
Lng : 6.780979

Village APAS-BTP
Holidays center just renoved, ideally located at 1600m of altitude...Read more
Lat : 45.877267
Lng : 6.761184

La Cha
The restaurant is located at 1720 meters above sea level, it offers...Read more
Lat : 45.890726
Lng : 6.733276

Hôtel Le Prarion
Chalet-hôtel is situated at 1860m, in the heart of Mont Blanc in the...Read more
Lat : 45.884452
Lng : 6.752472
4 informations complémentaires
Contact
Phone :
04 50 53 22 08
04 50 55 50 62

Email : ohm-info@chamoniarde.com

Website : www.chamoniarde.com/

Open period
From 15/06 to 30/09.
According to lifts opening.

Subject to favorable snow and weather conditions.
Updated by
Office de Tourisme de la Vallée de Chamonix-Mont-Blanc - 16/07/2020