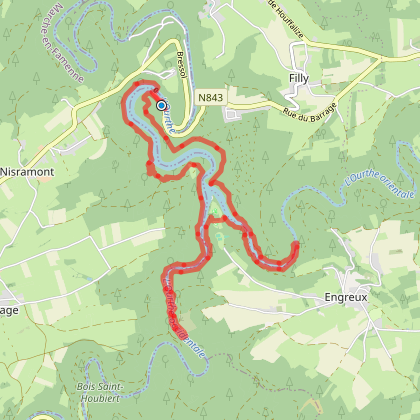 NISRAMONT - Big Lake Solitude
The lakes fascinate and attract lovers of a mysterious and magical nature. For those seeking the solitude of one of the wildest landscapes in Belgium, Nisramont is the perfect spot.

A visit to the Haute Ardennes is a breath of adventure and fills you with the spirit of discovery. The path that runs along the shores of Lake Nisramont conjures images of wild nature. This walking route is the gift that keeps on giving with stunning scenery from lakes to mountains, forest to river. As you follow the banks of the Ourthe river from rock to rock, climbing and descending by steep paths to reach the other bank you'll be amazed at the variety of scenery, near "Engreux". The return via the banks of the River Ourthe will require another 2 hours of walking in an atmosphere of complete peace. No road, no traffic noise to disturb this magnificent hike. Heavenly silence.
During this hike, you take a section of the "Escapardenne" (another beautiful hike).
15 km

max. 365 m

min. 285 m

1301 m

-1301 m

Altimetric profile

Accessibility