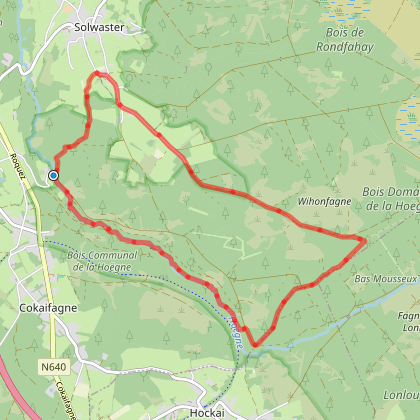 Sart-les-Spa - La Hoëgne - A River runs Through It
From pretty trickling streams to wild, roaring rivers. The romance of la Hoëgne is a sight to behold.

If there's anything this walk avoids it's a straight line. There is even a kind of drunkenness to it as you follow the twists and turns as you follow the river. Step over a wooden bridge to cross the wilder water cascades or on gratings by foot in wetter areas. They are the simple pleasures of walks that hold eternal appeal., even since Queen Marie-Henriette enjoyed them here in 1899. Landscapes take on varying shades of dark and light when the river crosses forests or moors. At the Centennial Bridge, join the "Vecqueée", an ancient path that crosses the "Fagnard" landscapes. A more open landscape accompanies you to "Solwaster", an Ardennes village located in a natural setting, between Fagnes and Forests.
11 km

max. 0 m

min. 0 m

0 m

0 m

Accessibility
Lodgings nearby