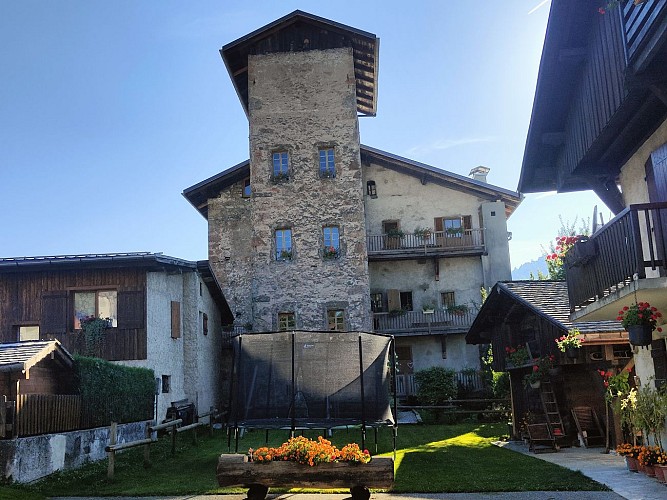 Discover the village of Flumet and its little lake. Compatible stroller.

DEPARTURE: Flumet Tourist Office / St Nicolas La Chapelle

ROUTE: From the Tourist Office, go up the rue du Mont-Blanc (main street) to L'ÉGLISE (possibility to turn right to admire the Bridge of the Abyss and the houses suspended). Descend left along the departmental then turn right (in the bend) towards the PLAN D'EAU. Continue on the path of the Revue (communal road) and turn left to follow the stream of the Arrondine and join the lake. Pass the stretch of water and continue flat along the Arrondine (playground and sports fields). After the stadium, turn left onto the communal road to reach the entrance of the village. Go back to the Tourist Office.

POINTS OF INTEREST:
- The Moulin "à Tienne" of Flumet and its museum.
- The Bridge of the Abyss or Bellecombe which culminates 32 meters above the Arly.
- The hanging houses of Flumet overlooking the Arly 40 meters below.
- The Saint Theodule Church of Flumet.
- The lake for a refreshing dive!
1.5 km

max. 910 m

min. 850 m

50 m

50 m

Altimetric profile

Tourist Office of Val d'Arly - Flumet / St Nicolas la Chapelle
In the land of Mont-Blanc, between the Aravis and Saisies passes and...Read more
Lat : 45.818089
Lng : 6.514642
893 m

Museum of Mill in Tienne and Miller's house
As part of the fully restored mill, come and discover the history...Read more
Lat : 45.818112
Lng : 6.515317
920 m

Abymes bridge
The Abymes bridge connects Flumet with Notre-Dame-de-Bellecombe....Read more
Lat : 45.81828
Lng : 6.51633
0 m

Suspended houses – panoramic view
Flumet's suspended houses, with their foundations built into...Read more
Lat : 45.817528
Lng : 6.514957
0 m
Date and time
From 01/06/2022 to 30/09/2022
From 01/06/2023 to 30/09/2023
5 informations complémentaires
Open period
From 01/06 to 30/09.
Reception conditions for animals
Dogs must be on a leash.
Location complements
The start of the route is at the Tourist Office. Free parking nearby.