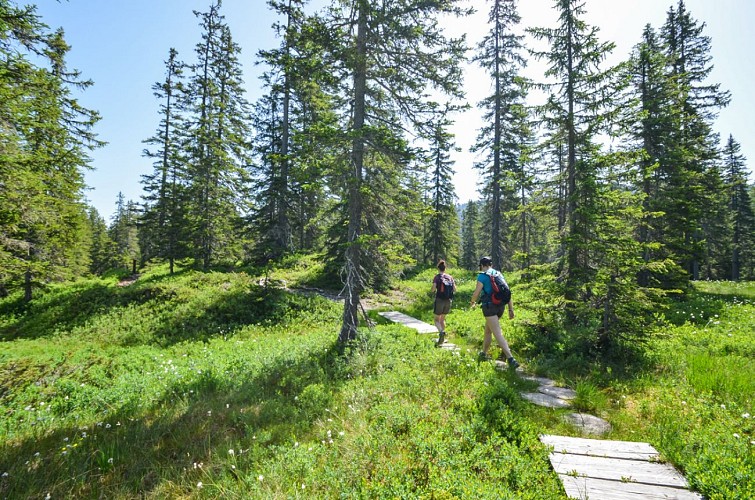 Short hike on the wild trails of Cohennoz and along the bog - Regional Nature Reserve.

DEPARTURE: parking Cernix.

ROUTE: from the car park, take the municipal road towards the capital of Cohennoz and pass the signs VIRAGE DU CERNIX then LES ROCHES. Take the forest track on the left, then the wild trail going up to STARFU. Turn left towards GRANDE COMBE, then CARREFOUR DU BOEU DE COHEN. Stay on the left track to go down to the SAUT DU CHAMOIS, LE GRANZEY and LE GRANZEY. Continue the path then the trail to SOUS LA VOUILLON, LES EMBAILLES and CERNIX.

POINT OF INTEREST :
- The Arpelières trail (near the route), created in a mountain wetland, a fragile natural area. Discover the largest sphagnum peat bog in the Alps and its unique ecosystem. Since 2013 the site benefits from the classification in Regional Nature Reserve.
8.7 km

max. 0 m

min. 0 m

600 m

600 m

Altimetric profile
Lodgings nearby
Starting point
73590 Crest-Voland
Lat : 45.78349
Lng : 6.49846

Tourist Office of Val d'Arly - Crest-Voland Cohennoz Office
Val d'Arly Tourist Office, Crest Voland Cohennoz office. Reception...Read more
Lat : 45.795003
Lng : 6.505519

Mont-Lachat stretch of water
A stretch of water at the top of Mont-Lachat (no bathing allowed)....Read more
Lat : 45.788355
Lng : 6.521244
0 m

La Belle Métairie
Bar/restaurant at an altitude of 1650m. Authentic cuisine as a nod...Read more
Lat : 45.788205
Lng : 6.522532
4 informations complémentaires
Open period
From 01/06 to 30/09.
Reception conditions for animals
Dogs must be kept on a leash because of the presence of herds.