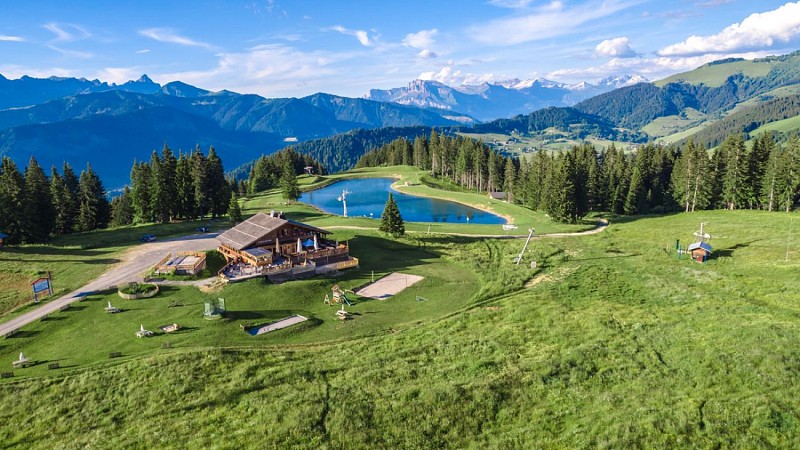 Mont-Lachat from Crest-Voland
Small pleasant hike that allows you to discover the surrounding landscapes of Crest-Voland and to reach the Mont Lachat, with its point of view on Mont Blanc.

DEPARTURE: Tourist Office.

ROUTE: from the Tourist Office, go up along the church and take the path through a field in the direction of BÉRETS VERTS, then the small communal road on the left to the TOVAT. From there, the climb alternates path and trail crossing following BELLEGARDE, the MANSTU (take the trail uphill in the alp) to arrive at MONT-LACHAT. Continue the forest track towards the signpost LES AYES, turn right towards SOUS LE LACHAT then opposite the LES RENARDS. Take on the left the trail going down to ENTRE DEUX BOIS then BALLEVARD. Finally, take a right to join LE TOVAT, LES BÉRETS VERTS and go back down to the Tourist Office.
* For those who ride with the chairlift, descent on both sides of this short hike to reach the village of Crest-Voland.

POINTS OF INTEREST:
- Crossing pastures with herds of beautiful Abondances cows or Tarines whose production of milk is used for the manufacture of Reblochon and to a lesser extent Beaufort.
- Beside the alpine farms a small building, the "freder", built on a stream, allowed to keep cool the milking evening until the collection by the cooperative.
7.5 km

max. 0 m

min. 0 m

370 m

370 m
Starting point
73590 Crest-Voland
Lat : 45.79506
Lng : 6.505417

Tourist Office of Val d'Arly - Crest-Voland Cohennoz Office
Val d'Arly Tourist Office, Crest Voland Cohennoz office. Reception...Read more
Lat : 45.795003
Lng : 6.505519
1230 m

Mont-Lachat stretch of water
A stretch of water at the top of Mont-Lachat (no bathing allowed)....Read more
Lat : 45.788355
Lng : 6.521244
1650 m

La Belle Métairie
Bar/restaurant at an altitude of 1650m. Authentic cuisine as a nod...Read more
Lat : 45.788205
Lng : 6.522532
1650 m
Date and time
From 01/06/2022 to 30/09/2022
From 01/06/2023 to 30/09/2023
4 informations complémentaires
Open period
From 01/06 to 30/09.
Reception conditions for animals
Dogs must be kept on a leash because of the presence of herds.