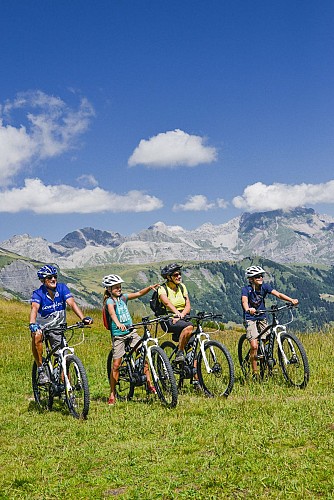 Combloux mountain-biking area: Top of Combloux (n°32)
A part of the itinerary is paved, the other part is graveled. Some ascents.
The itinerary as a whole is wide and without any particular difficulty.

Departure: Tourist Office
Duration: 2 hours
Ascents: 380m
Descents: 380m
Height of departure: 973m
Height of arrival: 973m
Type of path: paved road and four wheel drive path
Level of path : red
Marking : VTT N°32

A free shuttle ensures the connection between the village centre and "Cuchet" car park.
The departure is just in front of the Tourist Office.
8.4 km

max. 1320 m

min. 971 m

380 m

0 m

Altimetric profile

Accessibility
Starting point
49 chemin des Passerands BP 38
74920 Combloux
Lat : 45.8953
Lng : 6.64482
0 m

1
Le départ et l'arrivée se situent à l'Office de Tourisme de Combloux
65 Route de Megève 74920 Combloux
Lat : 45.8944
Lng : 6.64504
0 m

2
Prenez à droite, attention la descente est un peu technique avant le chalet "les alpages".

Voie Communale N°17 du Cuchet au Chef Lieu 74920 Combloux
Lat : 45.888
Lng : 6.61186
0 m

3
Attention descente technique sur la 1ère partie surtout en l'e-berty bike.
231-239 Chemin de la Balancerie 74920 Combloux
Lat : 45.8956
Lng : 6.62986
0 m
4 informations complémentaires
Open period
From 01/06 to 31/10. Dates to be confirmed.