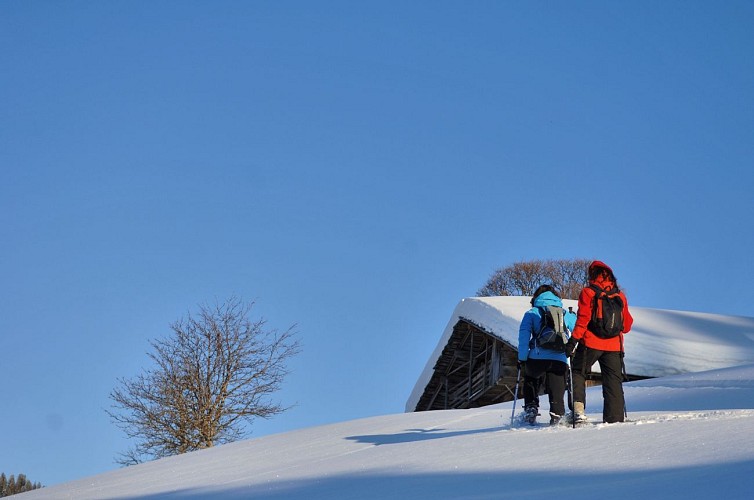 Easy stroll in the forest of "Le Faÿ" near the village of Notre-Dame-de-Bellecombe.

Accessibility: shuttle, village stop
Departure: Les Biolles district (departure on snow)

From the ski bus stop near the Church, take the main street of the village for 200 m, then turn left into rue de la mini-market (Sherpa) in the direction of Biolles. Arrived at the crow's feet, turn left and continue until the bend. In it take a right towards the cabin of the Biolles ski lift. Pass by the chalet and then climb in the direction of the Verdette ski lift. Pass to the left of the ski lift and enter the Faÿ wood to make the loop. Return to Biolles and the village by the same route as the outward journey.

TO KNOW:
The télé-traîneau, a tracked vehicle still visible at the foot of the Reguet piste in the village center, is the station's first ski lift. Dating from 1937, it could transport 20 people with their skis to the top of the Reguet in 20 minutes. It was replaced in 1948 by a new ski lift device "the ski lift". The télé-traîneau is a unique model in France.
2.5 km

max. 1195 m

min. 1122 m

50 m

50 m

Altimetric profile
Starting point
D218B
73590 Notre-Dame-de-Bellecombe
Lat : 45.813231
Lng : 6.520765
0 m

Shuttle Bus
The free shuttle service links the hamlets of Notre Dame de Bellecombe...Read more
Lat : 45.806898
Lng : 6.517334
0 m
Date and time
From 15/12/2023 to 15/04/2024
From 15/12/2024 to 15/04/2025
4 informations complémentaires
Location complements
Accessibility possible via the Station Shuttle (Village Stop)
(hours at the Tourist Office).
Start of the trail in the Les Biolles district.
Open period
From 15/12 to 15/04.

Subject to snow conditions.