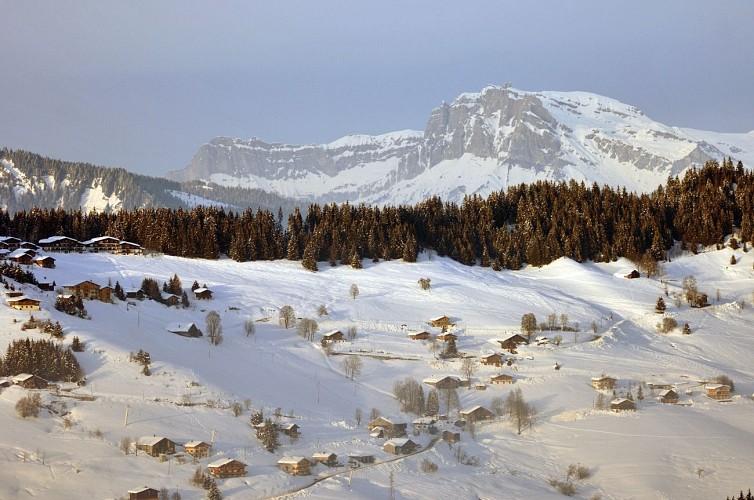 From Lachat to Planay n°2
Varied walk between forests and meadows.

From the ski bus stop, go up the street to the last houses, turn right into the forest. At the crossroads "Le Golet", turn right towards "Plan du Drayon". At this crossroads, turn right and descend in the direction of "Chemin de la Peignière" then join the road to the hamlets of Planay and Mond-Rond (1 km, 15 min). You can then use the skibus shuttle to return.

TO KNOW :
When Savoy became French in 1860, a free zone, exempt from taxes, was created. The border of this area was located in the heart of Val d'Arly. The inhabitants then organized a vast smuggling network. Smugglers, to divert customs officials, used certain tricks such as inverting the soles of their shoes to simulate the opposite direction of movement or using strings to discreetly pull the goods.
2.4 km

max. 1493 m

min. 1345 m

210 m

-130 m

Altimetric profile
Starting point
Résidence du Lachat
73590 Notre-Dame-de-Bellecombe
Lat : 45.811302
Lng : 6.545554
0 m

Shuttle Bus
The free shuttle service links the hamlets of Notre Dame de Bellecombe...Read more
Lat : 45.806898
Lng : 6.517334
0 m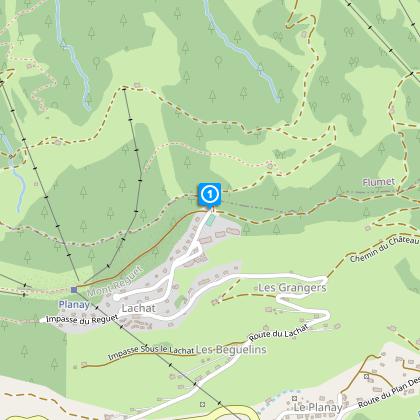 1
Quartier du Lachat. Accessible en navettes.
D218B 73590 Notre-dame-de-bellecombe
Lat : 45.811327
Lng : 6.545522
1 m

Chez Maryse
Restaurant, pizzeria, wood-fired grill, panoramic views. Maryse makes...Read more
Lat : 45.80968
Lng : 6.544526
0 m
Date and time
From 15/12/2023 to 15/04/2024
From 15/12/2024 to 15/04/2025
4 informations complémentaires
Location complements
Accessibility possible via the Station Shuttle (Lachat stop) /
(hours at the Tourist Office).
Departure from the trail in the Lachat district.
Open period
From 15/12 to 15/04.

Subject to snow conditions.