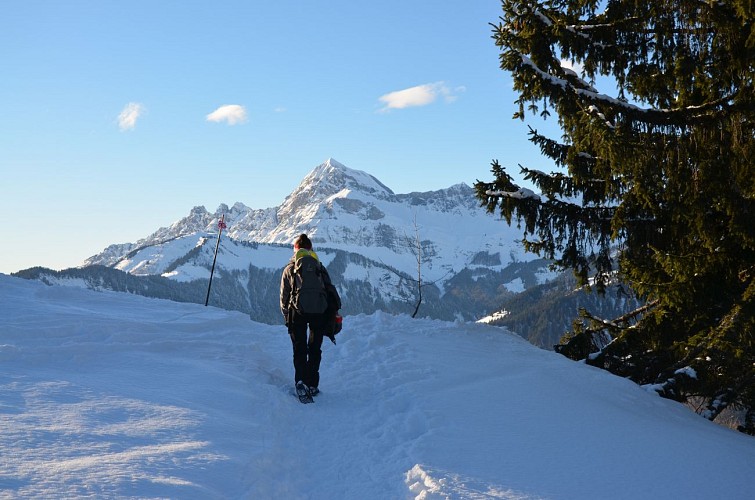 Walk down to get to Cernix or Crest-Voland from the top of Mont Lachat.

From the TS de la Logère, turn right before the ESF chalet and continue for a few meters. Cross the ski slope to reach a passage in the forest. Cross a ski slope again. The route descends slightly and arrives at a new track crossing. Watch out for skiers! The route descends into the forest. At "Entre deux bois", turn left. The route continues in part more and more clear. The route then follows a track on the right without crossing it. Continue towards a wooden chalet and descend towards a place called "le Moulin". Remove the snowshoes and take the road to the left towards the car park, to find the path at the foot of the ski lifts. The route ends at Place du Cernix. Possibility to reach the village of Crest-Voland by taking route
n ° 7.

TO KNOW :
The Crest-Voland Cohennoz ski resort was born in 1951 with the construction by pioneers of the village and the surroundings of the 1st ski lift: the Lachat (replaced in 1999 by a chairlift). Setting up a station in this isolated corner was a bit of a gamble because road access was difficult, and there was then only one hotel and a ski shop. But at that time mountain agriculture was in crisis and the villages were depopulated. Thanks to the relentlessness of the mountaineers, the abundant snow and the development of skiing, the resort developed and tourism became the main activity.
2.4 km

max. 1588 m

min. 1235 m

20 m

420 m

Altimetric profile
Lodgings nearby
Starting point
73590 Crest-Voland
Lat : 45.787199
Lng : 6.521556
0 m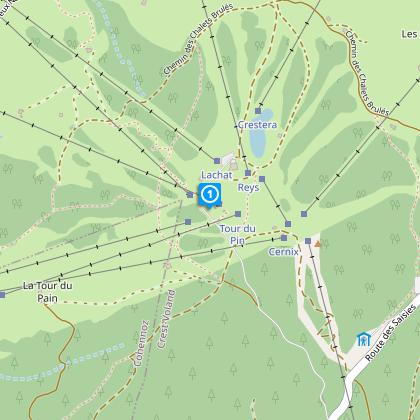 1
Depuis le sommet du télésiège de la Logère
D71A 73590 Crest-voland
Lat : 45.786894
Lng : 6.521586
0 m

La Belle Métairie
Bar/restaurant at an altitude of 1650m. Authentic cuisine as a nod...Read more
Lat : 45.788205
Lng : 6.522532

Le Mazot
Ski-in/ski-out restaurant situated at the foot of the slopes in Le...Read more
Lat : 45.784592
Lng : 6.500706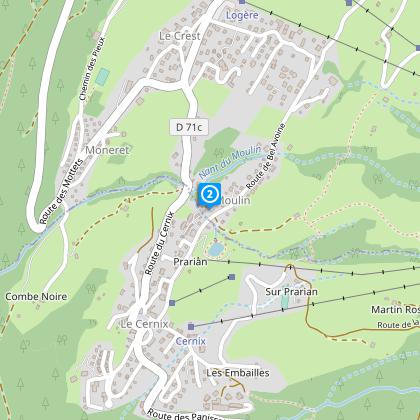 2
D71C 73590 Crest-voland
Lat : 45.786413
Lng : 6.501534
0 m

Le Télémark
Restaurant - Bar serving Savoyard specialities at the foot of Le Cernix...Read more
Lat : 45.784147
Lng : 6.49969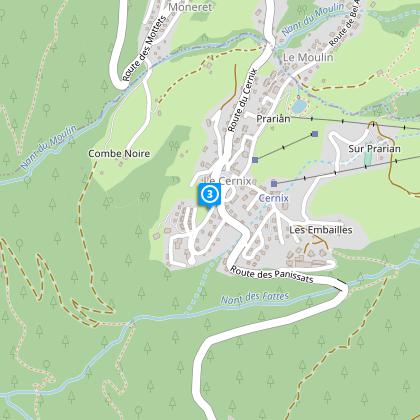 3
D71C 73400 Cohennoz
Lat : 45.782135
Lng : 6.497973
0 m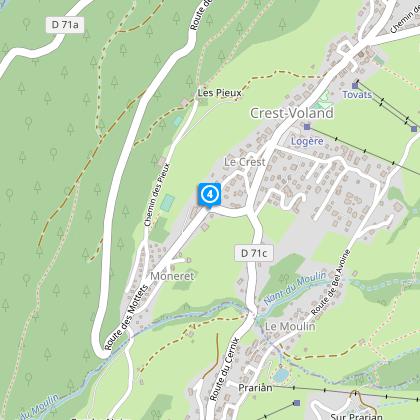 4
D71A 73590 Crest-voland
Lat : 45.790175
Lng : 6.498736
0 m

Cernix chapel
A simple wayside shrine in 1663, the chapel dedicated to Saint Aubin...Read more
Lat : 45.783488
Lng : 6.498531
0 m

Chalet Hôtel du Mont Charvin et SPA****
Typical Savoy 4-star hotel situated at the foot of the ski slopes....Read more
Lat : 45.784045
Lng : 6.498928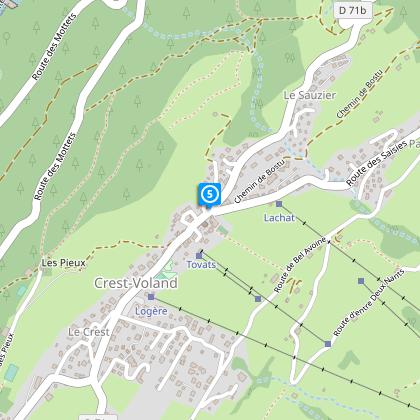 5
A proximité du Central Bar et de l 'Office de Tourisme
D71A 73590 Crest-voland
Lat : 45.795253
Lng : 6.505432
0 m

L'Arche de Zoé
Traditional and bistro-style cooking, open 7/7 for lunch and dinner,...Read more
Lat : 45.783843
Lng : 6.498939
3 informations complémentaires
Open period
From 15/12 to 15/04.

Subject to snow conditions.