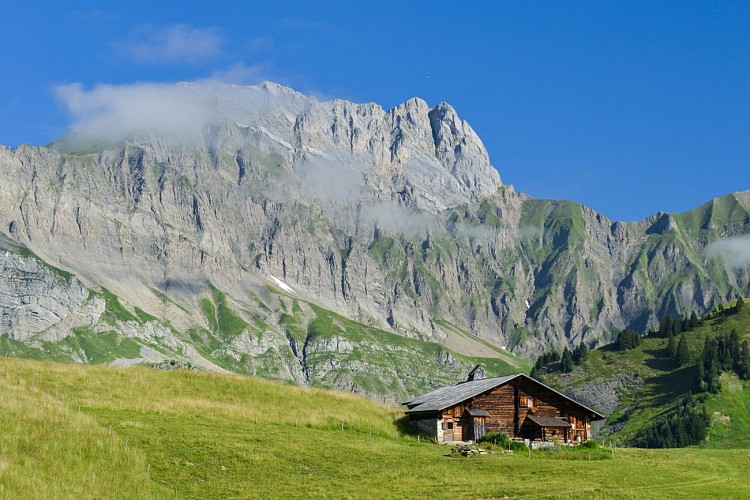 This walk will lead you on a discovery of the hamlets and heritage of La Giettaz : church, chapel, alpine chalets...
Begin your walk after the bakery/food shop in LA GIETTAZ. Go towards LE PLAN, passing through La Chapelle des Nants, l'Abbaye and Les Evargneux. In Les Fardellets, take the direction towards Char Véret via Stapesse. When you get to Pétaz, go towards the Croix de Ptiouta. At the Bois de Fouestarle, follow signs to the COL DES ARAVIS passing through Les Clapières. At the crossroads Sous le Châtelard, go back down to LA GIETTAZ via Crève Cœur, Sous les Feux, Les Mortines, the Pont de Nant Parreux and La Caillière.

TO SEE :
The oratories : you will come across several oratories along your way. These little chapels were usually built at crossroads, enabling pilgrims as well as various other travellers, to spend a moment in prayer. It is worth seeing these examples of local heritage.

INTERESTING FACT :
This religious heritage has been through various difficult periods. For example, towards the end of December 1793, the local municipality was ordered to destroy all the little oratories along the footpaths. It is said that the oratory at Les Clapières was saved because it was hidden under a pile of wood.
8 km

max. 0 m

min. 0 m

570 m

570 m
Lodgings nearby
Starting point
73590 La Giettaz
Lat : 45.862519
Lng : 6.49479
0 m

Tourist Office of Val d'Arly - La Giettaz Office
Tourist Office of Val d'Arly bureau in La Giettaz en Aravis. Welcome...Read more
Lat : 45.86256
Lng : 6.494762
0 m

Museum - A la Rencontre du Passé
Display of traditional Savoie costumes, a woodwork workshop and a...Read more
Lat : 45.862192
Lng : 6.495017
0 m

La Giettaz church
The church of La Giettaz, dedicated to Saint Pierre-aux-Liens, was...Read more
Lat : 45.862408
Lng : 6.49527
0 m

Chapelle des Nants
Little chapel located at the place known as L'Abbaye and which is...Read more
Lat : 45.865498
Lng : 6.496498
0 m

Oratoire des Clapières
The Oratoire des Clapières is the only wayside cross to have...Read more
Lat : 45.873702
Lng : 6.490999
0 m

Le Mégevan
Opposite Mont Blanc, come and savour authentic Savoyard specialities...Read more
Lat : 45.879598
Lng : 6.511139
0 m

Le Refuge du Nomade
Lat : 45.863006
Lng : 6.496482

Le Tavaillon
Savoyard specialities, pizza to eat in or take away. Caterer. Open...Read more
Lat : 45.862748
Lng : 6.4955
0 m

Flor'Alpes Hôtel
The Flor'Alpes hotel is situated at an altitude of 1100m in...Read more
Lat : 45.862311
Lng : 6.496117
0 m
3 informations complémentaires
Open period
From 01/05 to 01/10.

Subject to snow conditions.