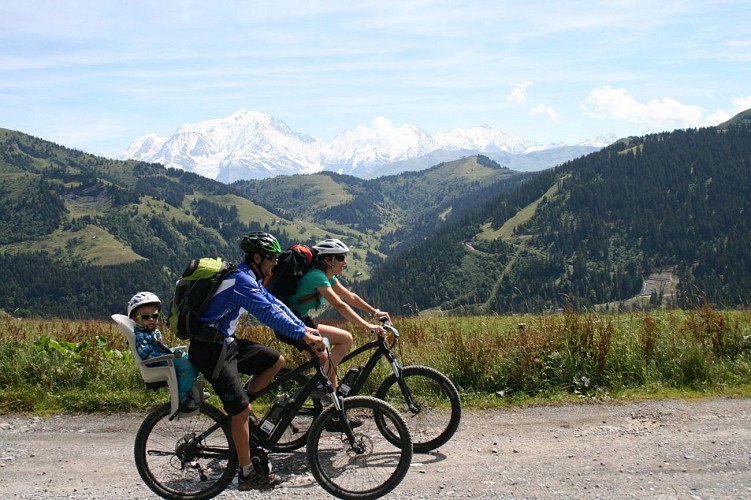 Les Chalets de Pétetruy FFC n°49
Pleasant biking route in the middle of alpine pastures and grazing cows, opposite the Mont-Blanc mountain range.
From the Tourist Office in La Giettaz, take the main 909 road towards the Col des Aravis. Before you get to Les Mortines, take the road on the right as far as Les Clapières. At Les Clapières, cycle in the direction of LA BALMAZ following the Route des Chalets, via the Bois de Fouestarle, the Croix de Ptiouta, the Mègevan and the Route du Plan Bourgeois. Continue along the Route des Chalets towards Pétetruy. The return journey follows the same route as far as La Croix des Buts where you will go down to the path which leads to Les Fardellets and from there rejoin the main road that goes to Le Plan. Once there, take the forest track towards the Roc du Chabonnier before getting to the village of La Giettaz.
21 km

max. 1620 m

min. 1069 m

510 m

510 m

Altimetric profile
Starting point
73590 La Giettaz
Lat : 45.86248
Lng : 6.494788
0 m

Tourist Office of Val d'Arly - La Giettaz Office
Tourist Office of Val d'Arly bureau in La Giettaz en Aravis. Welcome...Read more
Lat : 45.86256
Lng : 6.494762
1099 m

La Giettaz church
The church of La Giettaz, dedicated to Saint Pierre-aux-Liens, was...Read more
Lat : 45.862408
Lng : 6.49527
1120 m

Museum - A la Rencontre du Passé
Display of traditional Savoie costumes, a woodwork workshop and a...Read more
Lat : 45.862192
Lng : 6.495017
1110 m

Villa Jeanne d'Arc
Villa Jeanne d'Arc, built between 1908-1914, is the first example...Read more
Lat : 45.86465
Lng : 6.495216
0 m

Oratoire des Clapières
The Oratoire des Clapières is the only wayside cross to have...Read more
Lat : 45.873702
Lng : 6.490999
0 m

Camping Le Mégevan
Situated in mountain pastures at an altitude of 1550m, facing the...Read more
Lat : 45.879119
Lng : 6.51092
1550 m

Le Mégevan
Opposite Mont Blanc, come and savour authentic Savoyard specialities...Read more
Lat : 45.879598
Lng : 6.511139
1550 m

The Chapel of Le Plan
The chapel of Le Plan was built at the end of the 1860s at the initiative...Read more
Lat : 45.879552
Lng : 6.524232
0 m

La Datcha
In Plan, winter at the foot of the ski slopes of La Giettaz; in summer...Read more
Lat : 45.879582
Lng : 6.526254
1200 m
3 informations complémentaires
Open period
From 01/06 to 30/09.