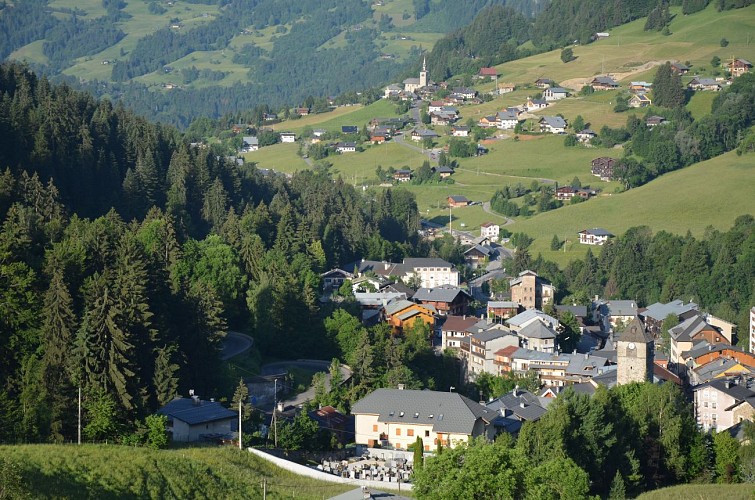 Discover the heights of Flumet with its many farms, under the eye of Mont Blanc.
DEPARTURE: Flumet Tourist Office / St Nicolas la Chapelle.

ROUTE: From the Tourist Office, go up Rue du Mont-Blanc to ÉGLISE. Continue straight ahead towards CHÂTELET then PONTETS MORETTES (short steep climb to this place). Continue a few meters on the panoramic road and turn left on the balcony until the PETIT BIOLLAY. From there, go up on the left towards LE BIOLLAY. Then return to LA TOUVIERE. Back to the BIOLLAY, turn right on the communal road to FRÉNEY and LES PONTETS MORETTES. Turn right and take the road then the track to join the CHAR. Go down the path to the left to reach the village then the Tourist Office.

POINTS OF INTEREST:
- Many views of the Val d'Arly
- The "bell-tower", old tower of the wall of the city.
6.3 km

max. 0 m

min. 0 m

280 m

280 m

Tourist Office of Val d'Arly - Flumet / St Nicolas la Chapelle
In the land of Mont-Blanc, between the Aravis and Saisies passes and...Read more
Lat : 45.818089
Lng : 6.514642
893 m

De Bieu Fortified house
The Maison De Bieu, standing on the edge of the village, is a 15th...Read more
Lat : 45.816859
Lng : 6.513259
0 m

Château des Faucigny
The Château des Faucigny, fortified in the 12th century, is...Read more
Lat : 45.816728
Lng : 6.514689
0 m

Museum of Mill in Tienne and Miller's house
As part of the fully restored mill, come and discover the history...Read more
Lat : 45.818112
Lng : 6.515317
920 m

Abymes bridge
The Abymes bridge connects Flumet with Notre-Dame-de-Bellecombe....Read more
Lat : 45.81828
Lng : 6.51633
0 m

Suspended houses – panoramic view
Flumet's suspended houses, with their foundations built into...Read more
Lat : 45.817528
Lng : 6.514957
0 m

Le Châtelet mule stud farm
The only one of its kind in the Rhône-Alpes, Le Châtelet's...Read more
Lat : 45.819655
Lng : 6.520316
0 m

Oratory of the Immaculate Conception
This is a solidly built white-rendered building, dating from 1866,...Read more
Lat : 45.822881
Lng : 6.527853
0 m

Notre Dame de Lourdes Oratory – Le Char
A hut-like oratory, with grey rendered walls and four-sided metal...Read more
Lat : 45.820926
Lng : 6.51618
0 m
Date and time
From 01/06/2023 to 30/09/2023
From 01/06/2024 to 30/09/2024
4 informations complémentaires
Open period
From 01/06 to 30/09.
Reception conditions for animals
Dogs must be on a leash.