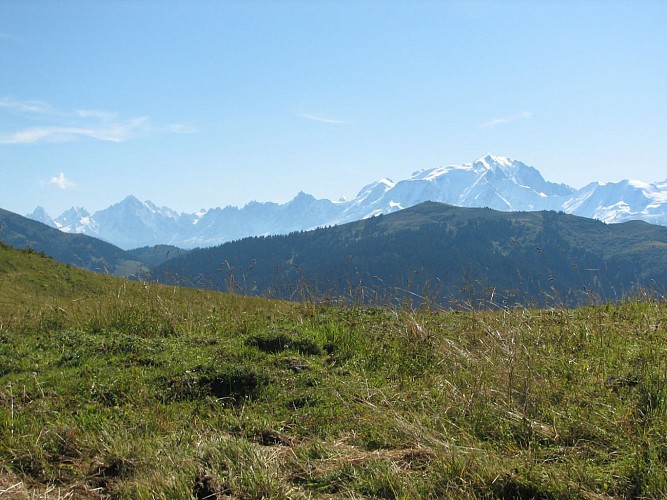 Panoramic hike followig the ridgeline. Walking via the Gâteau, you will reach the Tête du Torraz, at an altitude of 1930m. A good day's hiking will be needed to complete this rather challenging itinerary.
Start from the car park at Flumet's Tourist Office. Follow the direction for LA TETE DU TORRAZ, walking up the main street. You will climb via Le Châtelet, Les Pontets-Morettes, Le Petit Biollay, Le Biollay, LA TOUVIERE and le Sciozier. When you arrive at LE GATEAU, continue via Le Signal du Sac, Le Plan du Soleil and Sous le Torraz. Return to Flumet by the same route as far as LE GATEAU then go through Trélachat, Les Balmettes, Bellavarde and Les Pontets-Morettes.

TO SEE :
Several little chapels along the return path.

INTERESTING FACT:
The marmot is the little queen of mountain meadows. She is active from the month of May through to October, but then during the six months of winter she hibernates in her warm burrow. Out in the alpine pastures, she won't go unnoticed because of the strident whistle she makes to warn her fellow marmots when a predator approaches (source: the Route des Montagnes guide map).
20 km

max. 0 m

min. 0 m

1020 m

1020 m
Date and time
From 01/06/2022 to 30/09/2022
From 01/06/2023 to 30/09/2023
3 informations complémentaires
Open period
From 01/06 to 30/09.