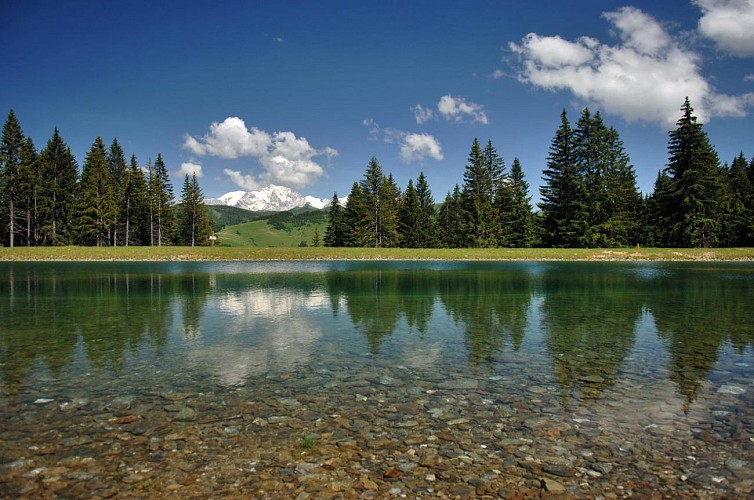 Pleasant walk that allows you to discover the landscapes surrounding Crest-Voland and to reach Mont Lachat, with its panoramic view over Mont Blanc. It is possible to get to Mont Lachat using the Logère chairlift.
Start from CREST-VOLAND, at the Tourist Office. Follow signs to MONT-LACHAT going up via Les Berrets Verts, Le Tovat and Le Manstu. Return to CREST-VOLAND by going down via Les Ayes, Sous le Lachat, Les Renards, Entre Deux Bois, Ballevard, Le Tovat and Les Berrets Verts.
Be careful : the route up to Le Mont-Lachat is an itinerary also used by mountain bikers.

TO SEE :
As you go up you will have crossed through alpine pastureland. Farming is still very much part of village life. The cows, mostly Abondances or Tarines, provide milk which is destined to make Reblochon cheese and to a lesser degree, Beaufort. Close to the alpine farms, there is a small building ("le Frédier") which was built next to the stream so that the farmers could keep the milk that they got in the evening cool, pending collection by the cooperative dairy.

INTERESTING FACT :
Winter sports in Crest-Voland officially began in the 1930s. Around 1937, the first sports shop opened its doors. They made skis. The first drag lift appeared later, in 1951.
7.5 km

max. 1581 m

min. 1219 m

370 m

370 m

Altimetric profile
Starting point
73590 Crest-Voland
Lat : 45.79506
Lng : 6.505417
0 m

Mont-Lachat stretch of water
A stretch of water at the top of Mont-Lachat (no bathing allowed)....Read more
Lat : 45.788355
Lng : 6.521244
1650 m

La Belle Métairie
Bar/restaurant at an altitude of 1650m. Authentic cuisine as a nod...Read more
Lat : 45.788205
Lng : 6.522532
1650 m

Tour of the Lachat FFC n ° 63
Loop with 360 ° panorama, with breathtaking view of Mont-Blanc!The...Read more
Lat : 45.788195
Lng : 6.522227
1591 m

Bergerie de la Palette FFC n°68
Round trip in the forest by the track along the regional nature reserve from...Read more
Lat : 45.788075
Lng : 6.522012
1591 m
Date and time
From 01/06/2023 to 01/10/2023
From 01/06/2024 to 01/10/2024
3 informations complémentaires
Open period
From 01/06 to 01/10.