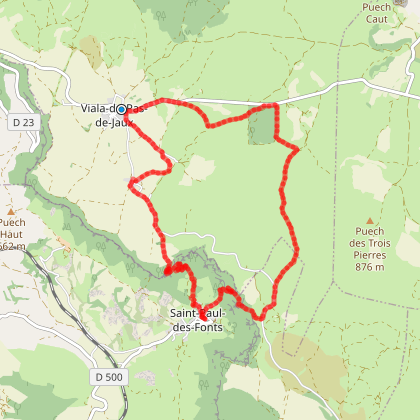 Path of the canon Hippolyte Coste
Heritage wise: the granary-tower of the Viala-du-Pas-de-Jaux. Landscape wise: the sensational cirque of St-Paul-des-Fonts. Two unique sites that make this crossing of the causse an exceptional hike.From the tower, take the small road in direction of Mas Baldy on 150 meters, then turn left on a wide farm road.Before the first important fork, turn right. After the cobbled watering place ("lavogne"), take the direction of Mas Baldy. In the hamlet, continue on the small road that draws a bend to the left on 800 meters.At the exit of a bend, veer right on a path that meets a hallow path lined with boxwood hedges. It leads to the heights of the cirque of Saint-Paul-des-Fonts (view on the whole cirque and village). Go down the gravel path that zigzags on the wooded slope. Cross over the stream and continue towards the center of the village of Saint-Paul des Fonts (return).100 meters before the church, climb left to the tank, then continue along the path that rises in laces towards the plateau (panorama of St. Paul and the Annoux Valley).On the causse (view on the Vialette farm, vestige of the old domain dependent of the Commandery of Sainte-Eulalie-de-Cernon), turn left on the road for 500 meters, then go on the right track.1 kilometer before the D23 road, turn left and head towards the pine woods (follow the signs). Walk around the pine wood to the right.At the picnic area, take the path to go out of the wood and meet on west the D23 road, at the cobbled watering place.  Take the D23 road to the left to return to Viala du Pas de Jaux.
12 km

max. 850 m

min. 533 m

415 m

-416 m

Altimetric profile
Lodgings nearby
Starting point
Lat : 43.9570724
Lng : 3.0565599
7 informations complémentaires
Departure
Tower of Viala du Pas de Jaux
Arrival
Tower of Viala du Pas de Jaux
Ambiance
Built in the time of the Hospitaller knights, the granary-tower of Viala-du-Pas-de-Jaux is the starting point of this loop inside a sumptuous agropastoral landscape. Formed by the karst erosion, the cirque of St-Paul-des-Fonts (village with a museum dedicated to the botanist Hippolyte Coste) offers you a breathtaking sight.
Access
The village of Viala-du-Pas-de-Jaux, is situated at 36km from Millau by D809 and D23.
Advised parking
Shaded parking direction L'Hospitalet du Larzac
Public transport
Think about carpooling Carpool areas and hitchhiking Rezopouce
Advice
From 1 to 5 : white and red signs (GR71 C)From 5 to 1 : yellow signsDifficulty : steep climb between 4 and 5.Don't forget binoculars and water.