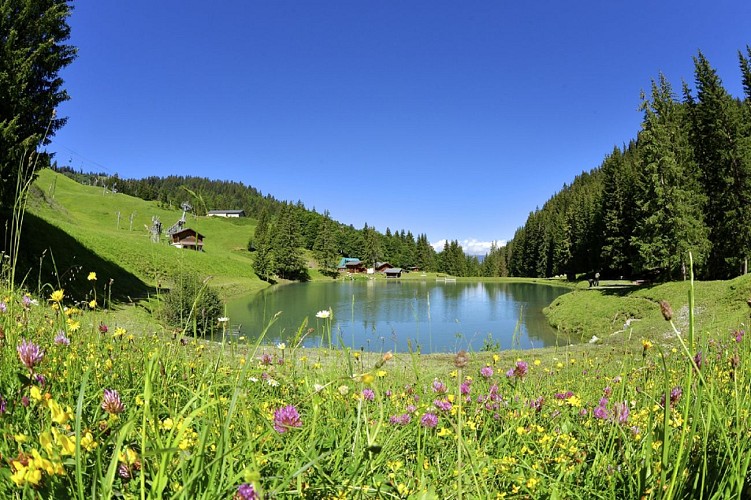 Bauernhöfe am Lake Plan Desert, ein idealer Spaziergang für eine Pause am Wasser.

ABFAHRT: Parkplatz Planay.

WEG: Folgen Sie vom Parkplatz Planay aus kurz der Hauptstraße und biegen Sie an der Garage der Skilifte links in Richtung COMBES ab. Folgen Sie der Gemeindestraße nach LE CHARDONNET und folgen Sie der Straße nach LE STOMU. Fahren Sie geradeaus auf dem Weg, dann auf dem angenehmen Weg zur PLAN DESERT. Rückkehr auf dem gleichen Weg.

POINT OF INTEREST:
- Lake Plan Desert, schöner kleiner See mit Grills und Picknicktischen, ideal für eine Gourmetpause! Möglichkeit zum Angeln. Informationen im Tourismusbüro.
7 km

max. 0 m

min. 0 m

250 m

250 m
Starting point
73590 Notre-Dame-de-Bellecombe

Fremdenverkehrsamt des Val d'Arly - Büro Notre Dame de Bellecombe
Büro des Fremdenverkehrsamts des Val d'Arly in Notre Dame de...Read more
Lat : 45.808805
Lng : 6.518798
1150 m

Lac du Plan Désert
Der bei Anglern beliebte Bergsee Lac du Plan Désert, an dem...Read more
Lat : 45.791916
Lng : 6.578407
1500 m

Mont Vorès
Der Mont de Vorès ist der höchste Punkt des Kamms, der...Read more
Lat : 45.792275
Lng : 6.59935
1500 m
Date and time
From 01/06/2022 to 30/09/2022
From 01/06/2023 to 30/09/2023
4 informations complémentaires
Open period
Vom 01/06 bis 30/09.
Reception conditions for animals
Aufgrund der Anwesenheit von Herden müssen Hunde an der Leine geführt werden