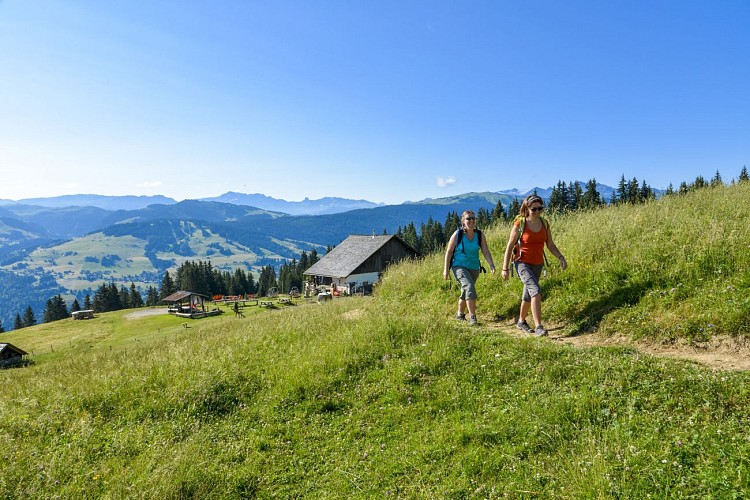 Die Alm der Avenières bietet sicherlich eine der schönsten Almen des Aravis, gegenüber dem Mont Blanc.

ABFAHRT: Parken unter dem Bèque - Wanderinformationsschild.

ROUTE: Vom Parkplatz aus nehmen Sie kurz die Straße in Richtung Saint Nicolas La Chapelle bis zum Schild "SOUS LA BEQUE" und nehmen Sie den Weg im Unterholz nach rechts. Fahren Sie hinauf zu LA BÈQUE und seinem herrlichen Blick auf das Val d'Arly (Vorsicht am Belvedere). Fahren Sie weiter in Richtung TRÉ LE SEZ, dann BOIS DES AVENIÈRES. Fahren Sie rechts auf die Spur und kommen Sie zu LES AVENIÈRES: ideal für eine Pause vor dem Mont-Blanc. Über SOUS ZORONS, LES MONTS geht es wieder den Höhenweg hinunter und erreicht den Parkplatz.

POINT OF INTEREST:
- Der Orientierungstisch Avenières und sein einzigartiges Panorama mit Blick auf den Mont Blanc, Beaufortain und Aravis.
3.8 km

max. 1576 m

min. 993 m

200 m

200 m

Altimetric profile
Starting point
73590 Saint-Nicolas-la-Chapelle
Date and time
From 01/06/2023 to 30/09/2023
From 01/06/2024 to 30/09/2024
4 informations complémentaires
Open period
Vom 01/06 bis 30/09.
Reception conditions for animals
Hunde müssen angeleint sein.