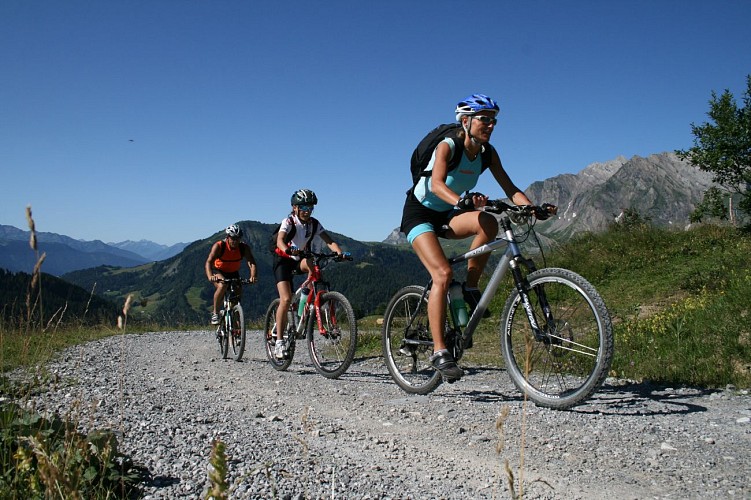 Rund um den Fluss Arrondine FFC Nr. 47
Bei dem kleinen Spaziergang entdecken Sie die Hügel von La Giettaz und den kleinen Weiler Le Plan.
Vom Fremdenverkehrsamt nehmen Sie die Straße Richtung Col des Aravis. An der Kreuzung mit der Straße, die nach Plan führt, fahren Sie 300 m auf der Straße Col des Aravis und biegen rechts in Richtung "La Gardette" und "Les Gorandières" ab. An einem Ort namens "Les Gorandières" nehmen Sie den Weg, der zu den "Fardellets" führt, und nehmen Sie die Straße, die zum Plan führt. Am Plan angekommen, nimmt man den Forstweg, der zum "Roc de Charbonnier" führt, und erreicht dann weiter das Dorf Giettaz.
8.8 km

max. 1350 m

min. 1076 m

360 m

360 m

Altimetric profile
Starting point
73590 La Giettaz
Lat : 45.862481
Lng : 6.494829
0 m

Kirche von La Giettaz
Die dem Heiligen Pierre-aux-Liens geweihte Kirche La Giettaz wurde...Read more
Lat : 45.862408
Lng : 6.49527
1120 m

Villa Jeanne d'Arc
Die zwischen 1908 und 1914 errichtete Villa Jeanne d'Arc war damals...Read more
Lat : 45.86465
Lng : 6.495216
0 m

Chapelle du Plan
Die Chapelle du Plan wurde Ende der 1860er-Jahre errichtet, auf eine...Read more
Lat : 45.879552
Lng : 6.524232
0 m
Date and time
From 01/07/2023 to 31/10/2023
From 01/07/2024 to 31/10/2024
3 informations complémentaires
Open period
Vom 01/07 bis 31/10.